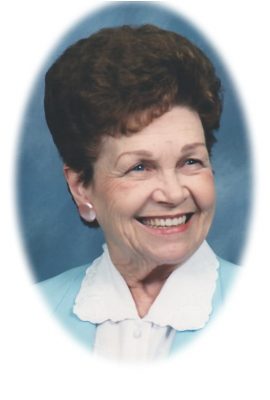 Ramona "June" Harpole was born the daughter of Mose Brewer and Bernice (Clark) Brewer on June 24, 1921 in Myrtle, Misssouri and departed this life on June 17, 2020 at her home in High Ridge, Missouri at the age of 98.
She was united in marriage on September 26, 1942 in St. Louis, Missouri to Robert N. Harpole who preceded her in death on November 11, 1983.
June is survived by one son, Michael Harpole and wife, Pam of High Ridge, Missouri; one sister, Jessa Nell Powell of Thayer, Missouri; six grandchildren, Mechelle, Kim, Autumn, Amber, Melanie and Josh; fifteen great grandchildren; several nieces and nephews; other relatives and many friends.
She was preceded in death by her parents, Mose and Bernice Brewer; her husband, Bob Harpole; her daughter, Ramona Crawford and son-in-law, Robert Crawford; and three sisters, Verdie Plympton, Geraldine Wylie and Linda Brewer.
 June was a strong Christian and of the Baptist faith.
      She worked has a wide variety of jobs, including at an ammunition factory in St. Louis during World War II, as a telephone operator, as a funeral director in Carter Funeral Home, and at the nursery at Thayer First Baptist Church. In her spare time, she was an avid reader and she loved to cook.
She will truly be missed by her family and all who knew her.
Funeral services for Ramona June Harpole will be held Saturday, June 20, 2020 at 11:00 a.m. at Carter Funeral Home Chapel in Thayer, Missouri with Brother Bill Bales and Brother Orville Moody officiating.
Burial will be in Thayer Cemetery in Thayer, Missouri with services under the direction of Carter Funeral Home, Inc. in Thayer, Missouri.