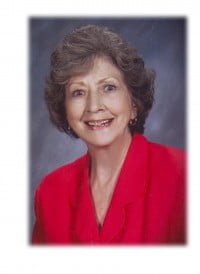 Funeral Services for Wanita Wynelle White Anderson, 78, West Plains, Missouri, will be 2:30 p.m., Sunday, March 27, 2011, at the Carter Funeral Home Chapel, West Plains, under the direction of Carter Funeral Home, West Plains.
She was born the daughter of the late Ervin S. White and Clara Rebecca Kissee White, on April 14, 1932 in Sparta, Missouri and went to be with the Lord on March 24, 2011 in Springfield, Missouri.
She was united in marriage June 27, 1953 in Kansas City, Missouri to Everett Lindsey Anderson, who preceded her in death.
She is survived by one son, Gregory Allen Anderson, wife, Angie, Daggett, California; two brothers, Clifford White, wife, Virginia, Springfield, Missouri, and Richard White, wife, Betty, Wyandotte, Oklahoma; one sister, Rosemary Gilbert, husband, Dan, Forsyth, Missouri; two grandsons, Eric Anderson, wife, Karina, Barstow, California, and Alex Mir, Las Vegas, Nevada; one great grandson, Gabriel Anderson, Barstow, California; many cousins, nieces, nephews, friends, and a special "like daughter", Keri Elrod, West Plains.
She was preceded in death by her parents; her husband; one daughter, Teresa Wynelle Mir; one grandson, Shad Mir; one brother, Joe White, and one great nephew, Robert Clifford White, Jr.
She was a member of the First Baptist Church, West Plains. She graduated from Willard High School with the class of 1950. She worked for TWA for thirty-two years and was able to see a lot of the world. She was a long time employee of the West Plains/Civic Center. She loved gardening and quilting.
Memorial contributions may be made to the American Cancer Society or the First Baptist Church Library Fund, and can be left at the funeral home.
Burial will be in Hopedale Cemetery, Ozark, Missouri, Monday, March 28, 2011 at 2:00 p.m., under the direction of Carter Funeral Home, Inc., West Plains.