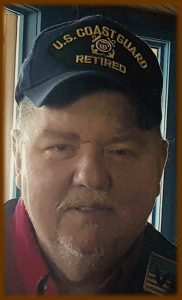 Terry DeWayne Brown, son of Edna Merritt, was born June 4, 1967 in Bernie, Missouri and died November 25, 2016 in West Plains, Missouri at the age of 49.
He was united in marriage on February 13, 2010 in West Plains, Missouri to Stephanie Cash.
He is survived by his wife, Stephanie Brown, of the home, West Plains, Missouri; his mother Edna Merritt, Bernie, Missouri; sister, LaVena Davis, Vancouver, Washington; brother Kendall Merrit and wife Betty, Bernie, Missouri, 3 step-sons and 5 grandchildren.
He was preceded in death by his grandmother Pansy Brown, grandfather James Earl Brown and 3 uncles.
Terry was loved by all those who knew him and since retiring after 20 years of service to the Coast Guard, he enjoyed helping other Veterans. In his spare time he enjoyed riding his motorcycle with his wife, being with friends and playing with his grandbabies. He was a wonderful husband, son, brother and father and will be greatly missed by all.