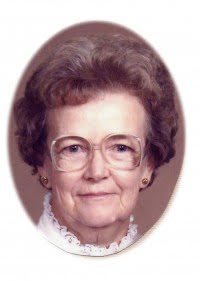 Ruth Emaline Johnson was born the daughter of Elias Grover DuBois and Nancy Emaline James DuBois on August 23, 1922 in Randolph County, Arkansas and departed this life on October 25, 2011 in West Vue Nursing and Rehabilitation Center at West Plains, Missouri at the age of 89 years.
She was united in marriage at Alton, Missouri December 21, 1940 to Charles Lester Johnson, who preceded her in death January 18, 1990.
She is survived by three children, Carol Wilkerson and husband, Dow of Thayer, Missouri, Donna Cunningham and husband, Charles of Brookhaven, Mississippi, and Glen Johnson and wife, Carol of West Plains, Missouri; fourteen grandchildren, Nona, Anthony, Greg, Dana, Christy, Shane, Terry, Amy, Tim, Steven, Cody, Miranda, Chase and Clay; seventeen great grandchildren; nine great-great grandchildren; one sister, Kay McGhee and husband, Carl of Myrtle, Missouri; a son-in-law, Max Harville of Jackson, Tennessee; other relatives and friends.
She was preceded in death by her parents, Grover and Emaline DuBois; her husband, Lester Johnson; two daughters, Doris Harville and Margaret Ellis; one sister, Mary Leta Duckworth; four brothers, Lawrence, Truman, Leon, and Lehman DuBois; an infant sister; two infant brothers and one great grandchild.
Mrs. Johnson was a member of the Thayer Church of Christ. She loved to work in her flower and vegetable gardens and was an excellent seamstress, but her greatest joy in life was her family.
Ruth will be remembered as a devoted wife, loving mother, grandmother, sister and friend. She will truly be missed by all who knew and loved her.
Graveside services will be Saturday, October 29, 2011 at 10:00 AM in the Rose Hill Cemetery near Thayer. The family will receive friends Friday, October 28 from 6:00 to 8:00 PM at the funeral home. Burial will be in the Rose Hill Cemetery with services under the direction of Carter Funeral Home, Inc. in Thayer.