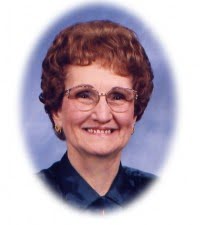 Pauline Smith was born the daughter of John A. Drye and Gertrude Meeks Drye on July 23, 1929 in Thayer, Missouri and departed this life March 13, 2011 in Quincy, Illinois at the age of 81 years.
She was united in marriage June 3, 1950 in Mammoth Spring, Arkansas to Rodney Smith, who preceded her in death February 1, 1984.
She is survived by two daughters, Pamela Fisher of St. Louis, Missouri and Michelle Hagerbaumer and husband, Mark of Quincy, Illinois; eight grand children, Stacie Mason, Barbara Adair and husband, Andy, Teresa Ingram and husband, Kyle and Jessica Fisher, all of St. Louis, Missouri; Logan, Lexus, Kamryn and Karli Hagerbaumer, all of Quincy, Illinois; seven great grandchildren, Taylor, Ali, Hayley, Noah, Landon, Addison and Avery; one brother, Bill Drye and wife, Hazel of Thayer, Missouri; several nieces, nephews and many dear friends.
She was preceded in death by her parents, John and Gertrude Drye; her husband, Rodney Smith; two brothers, Fred and John Drye and three sisters, Rosemarie Rust, Mary Russell and Vida Jo Smith.
Pauline enjoyed children and retired after twenty seven years of service as a substitute teacher with the Quincy Public School System in Quincy, Illinois.
She was an active member of the First Southern Baptist Church in Quincy, Illinois for forty-six years and a member of the WMU.
She was a devoted mother, grandmother, sister and a friend to all. She will truly be missed by those who knew and loved her.