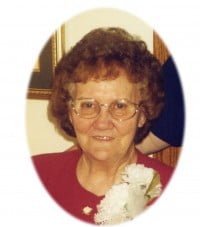 Ollie Jo Friel was born the daughter of Joseph Oliver Cheek and Arlie Creasy Cheek on February 6, 1934, in Wardell, Missouri and departed this life on January 26, 2012, in Ash Flat, Arkansas at the age of 77 years.
She was united in marriage in Pickett, Arkansas, June 5, 1948 to Wilford Noel Friel, who preceded her in death on November 17, 1993.
She is survived by four children, Judy Hester of Cherokee Village, Arkansas; Janet Moore and husband Ken of Thayer, Missouri; Tammy Gillmore and husband John of Charlotte, Arkansas; and Joe Friel of Mammoth Spring, Arkansas; eleven grandchildren; sixteen great-grandchildren; one brother Robert Creasy and wife Wilma of St. Louis, Illinois; one sister Dollie Friel and husband James of Virginia; several nieces, nephews, other relatives, and friends.
She was preceded in death by her parents Joseph and Arlie Cheek, her husband Wilford Friel, and four sisters Louella Downing, Mendora Turner, Betty Brent, Mary Jane Cheek, and Odelle Leatherwood.
Mrs. Friel was a faithful member of the Chapel Hill Church in Thayer, Missouri, attending as long as health permitted.
Mrs. Friel will be remembered as a devoted and loving mother, grandmother, and great grandmother. She will truly be missed by all who knew and loved her.
Funeral services will be Saturday January 28, 2012 at 2:00pm in the Carter Funeral Home Chapel at Thayer. The family will receive friends at the funeral home on Saturday from 1:00pm until time of service. Burial will be in the Thayer cemetery.