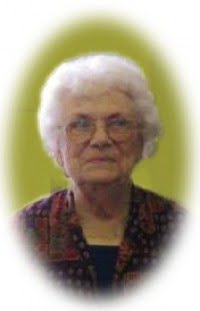 Mary Lee (Ary) Parnell was born the daughter of James H. and Leonia G. (Janes) Ary on October 11, 1926, East of Thayer, in Oregon County, Missouri and departed this life September 12, 2013 at West Vue Nursing and Rehabilitation Center in West Plains, Missouri at the age of 86 years.
She was united in marriage on July 20, 1961 in Thayer, Missouri to Leonard Edward Parnell, who preceded her in death on November 8, 1988.
She is survived by one brother, J.D. Ary of Thayer, Missouri; one brother-in-law, Paul Parnell of Diamond, Missouri; a host of nieces, nephews, great nieces and nephews, other relatives and many, many friends.
She was preceded in death by her husband, Leonard Parnell; her parents, James and Leonia Ary; three sisters, Hazel Bennett, Ola Risner and Ora Harper; four brothers, Lawrence Ary, Lehman Ary, Lloyd Ary and Floyd Ary.
Mary Lee was employed as a Sales Clerk at Olds Brothers Department Store in Thayer for twenty years and, worked on their farm for another twenty years. She loved listening to gospel and bluegrass music and enjoyed seeing live music shows.
She often served as a caregiver to her family and friends and was happy to offer her assistance anytime it was needed. Having no children of her own, she loved all children, especially her nieces, nephews, and great nieces and nephews. In her younger days, she loved working with the children at her church..
Mary Lee was a Christian and attended Cane Hill Sunday School, East of Thayer for many years.
She was a sweet and kind lady who will be remembered as a loving and caring sister and aunt and a giving, loyal friend. She will be truly missed.
Funeral Services for Mrs. Parnell will be Sunday, September 15, 2013 at 2:00 PM at Carter Funeral Home Chapel in Thayer with Erman Croney officiating.
Mrs. Parnell's body will Lie In State at Carter Funeral Home in Thayer on Saturday, September 14th from 8:00 AM until 8:00 PM.
Burial will be in the Pleasant Ridge Cemetery near Mammoth Spring, Arkansas.