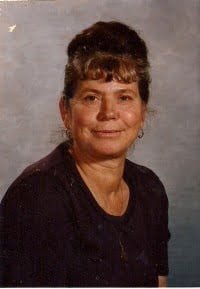 This obituary was written for Mrs. Martha by her grand niece, Maria.
Our beloved sister, aunt and grandmother, was born in Greece, at the Aliveri city of the state of Evia, at the year of 1928.
Her childhood was a struggle of survival, along with her five brothers and sisters; especially, during the difficult years of the II World War.
She met her husband, Ted, in 1954, while he was in Athens serving the U.S. Air Force, and they were married in Greece in 1954. Two years after they moved to America, initially at Delaware and then moved to the state of Missouri. Martha became a United States citizen at West Plains on October 8th, 1980, and she loved this place like her home country. Her description about West Plains was so nice, that we thought that she was living in a small paradise. She was able to travel and visit her family in Greece at least once a year.
Ted preceded Martha in death April 3, 1979 in West Plains, Missouri.
We will remember her as a fun loving, caring and great person to be with. May God rest her soul in peace.
Viewing will be held Saturday, January 7, 2012 from 8:00 a.m. until noon, with graveside services following at 2:00 p.m. at Howell Memorial Park Cemetery, under the direction of Carter Funeral Home, Inc., West Plains.