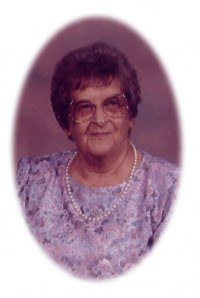 Margaret Leora Goins was born the daughter of Fletcher D. James and Janie Lee Jones James on February 13, 1922 at Wirth, Arkansas and departed this life August 5, 2011 at Shady Oaks Health Care in Thayer, Missouri at the age of 89 years.
She was united in marriage November 26, 1938 at Alton, Missouri to Don H. Goins, who preceded her in death on December 13, 2006.
She is survived by three children, Dulcie Couillard and special friend, Earl Cullom of St. Charles, Missouri, Richard Goins of Camdenton, Missouri and Emma Lea Skelley and husband, David of Thayer, Missouri; seven grandchildren, Kelley Rogers, Karen McDonald, Gregory Couillard, Jennifer Crawford, Mark Couillard, Jon Skelley and Sara Huffman; twelve great grandchildren; special nephew, Charlie Goins; several nieces and nephews, other relatives and many friends.
She was preceded in death by her parents, Fletcher and Janie Lee James; her husband, Don Goins; one grandson, Michael Skelley; one daughter-in-law, Shelby Goins; one son-in-law, Jim Couillard; two brothers, Amos and Grover James and one sister, Maudie Lee Meeks.
Margaret attended Couch High School, worked in several area businesses and was the Supervisor of the Couch High School Cafeteria for many years. She was a dedicated homemaker and an excellent cook. She will be remembered for her delicious homemade chicken and dressing and grandma's doughnuts.
She was a Christian lady and a life long member of the Myrtle First Baptist Church. She was also an active member of the DAV Ladies Auxiliary.
Margaret was a kind and caring person with an outgoing personality and a heart of love. She will truly be missed by her family and many friends.
Funeral services will be Monday, August 8, 2011 at 2:00 PM in the Carter Funeral Home Chapel at Thayer with Brother David Honeycutt officiating. The family will receive friends Monday from 12:30 PM until time of the funeral. Burial will be in the Myrtle Cemetery with services under the direction of Carter Funeral Home, Inc. in Thayer.
In lieu of flowers, donations may be made in her memory to the charity of choice and left at the funeral home.