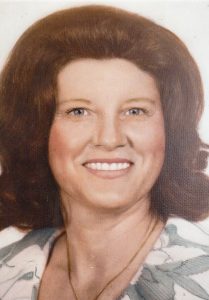 Funeral services for Mabel M. French, 83, will be held on Monday, March 6, 2017, at 2:00 p.m. at the Carter Funeral Home Chapel, West Plains, Missouri.
She was born the daughter of the late James Perry Harper and Lois D. Cole Harper, on October 15, 1933 in Harrisburg, Arkansas and died March 1, 2017 in Caulfield, Missouri.
She was united in marriage November 1, 1952 in Harrisburg, Arkansas to Albert French.
She is survived by her husband, Albert French, of the home, Caulfield, Missouri; five children, Terry French and wife Cindy, Rover, Missouri; Tom French and wife Debbie, Pomona, Missouri; Tina Hendrix and husband Dennis, West Plains, Missouri; Teressa Osborn and husband, Keith, Willard, Missouri, and Michael L. French, Apache, Oklahoma; four brothers, James Harper and wife Carrie, Harrisburg, Arkansas; Larry Harper, Jonesboro, Arkansas; Johnny Harper and wife Brenda, Harrisburg, Arkansas, and Rick Harper and wife Connie, West Plains, Missouri; twenty grandchildren; 58 great grandchildren, and 1 great great grandchild, and numerous nieces and nephews.
She was preceded in death by her parents; one son, Keith French; two brothers, Jr. Harper and Randy Harper, and two sisters, Dottie Ingersoll and Carol Loggains.
She attended the Assembly of God Church. She loved to garden, work with her flowers, and loved to write. She also enjoyed sewing and spending time with her family, especially her grandchildren and great grandchildren, and great great grandchild.
Memorial contributions may be made to St. Jude Children's Hospital and can be left at Carter Funeral Home, West Plains.
Visitation will be Sunday, March 5, 2017 from 2:00 to 4:00 p.m. at Carter Funeral Home Chapel, West Plains.
Burial will be in Amy Cemetery, Howell County, Missouri under the direction of Carter Funeral Home, Inc., West Plains.