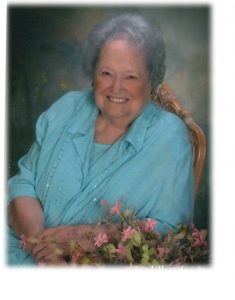 Lurine Bryan was born January 12, 1921, at Myrtle, Missouri, the daughter of Robert Cleveland Crass and Mary Belle Hill Crass. Lurine, age 96, died May 30, 2017, at West Vue Nursing Center in West Plains, Missouri.
Lurine attended the schools available in the Couch, Missouri area. While still a teenager, Lurine was spotted at a pie supper and social by Homer Bryan, who was immediately infatuated with the little brown-haired beauty with hazel eyes. Likewise, Lurine was attracted to the shy, handsome young man with big brown eyes. After a brief courtship, Homer and Lurine were married on July 9, 1938, by Father W.H. O'Brien of Sacred Heart Catholic Church at Thayer, Missouri. The couple shared fifty-seven years of marriage until Homer's death on October 27, 1995.
Before Diabetes took her eyesight, Lurine enjoyed quilting, crafting, and flea marketing. Products of her loving creativity can be found in her children's and grandchildren's homes. Lurine had a life-long love of reading. When she could no longer read big print books, she listened to books on tape while her little companion kitty "Heidi" napped in her lap. Most of all, proud Grandma Bryan delighted in rocking her grandbabies.
Lurine is survived by three daughters: Sondra Morgan (Tom) of Columbia, Missouri; Ramona Beard (Ted) of Brentwood, Tennessee; and Denise Montgomery (Jack) of West Plains, Missouri. She is also survived by seven grandchildren, twelve great grandchildren, and five great, great grandchildren. Lurine is also survived by one brother, John Patrick Crass of Jamestown, California; one sister-in-law, Anna Lou Weathers of Batesville, Arkansas; one brother-in-law, Jim Bryan of Cherokee Village, Arkansas; and numerous nieces and nephews.
Lurine was predeceased by her parents, her husband, six sisters (Erma, Opal, Sylvia, Irene, Margaret, and Betty) and three brother (Ernest, Lester, and Clinton).
A family reunion in memory of Lurine Bryan will be held at a later date.
The family of Lurine Bryan would like to thank the many compassionate caregivers of West Vue Nursing Center who helped make the last eight years of Lurine's life as comfortable as possible.
In lieu of flowers, the family suggests donations to the West Vue Nursing Center's Activities Fund or charity of choice. Donations may be left at the Carter Funeral Home of Thayer or West Plains.
Private graveside services and burial at the Thayer Cemetery with services under the direction of the Carter Funeral Home of Thayer