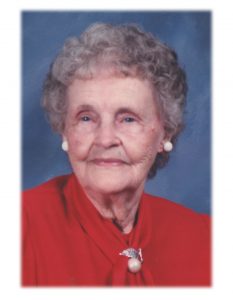 Lurene Alice Melinda Diles McGhee was born the daughter of William J. Diles and Sarah M. Arnold Diles on June 30, 1919, in Thayer, Missouri, and departed this life on January 4, 2017, in Thayer, Missouri, at the age of 97 years.
She was united in marriage on April 24, 1941, in Salem, Arkansas, to Ralph McGhee, who preceded her in death on January 10, 1991. To this union two daughters were born.
She is survived by her daughter, Sharon Hedden and husband, Marvin of Thayer, Missouri; son-in-law, Joey Pendarvis of Mammoth Spring, Arkansas; five grandchildren, Kevin Hedden and wife, Jamie of Thayer, Kim Johnson and husband, Jerry of O'Fallon, Missouri, Jolie Washam and husband, Brad of Mammoth Spring, Julie Rich and husband, Larry of Bono, Arkansas, and Jody Pendarvis and wife, Andrea of Harrison, Arkansas; ten great granddaughters, Meghan Thompson and husband, Brice, Baylee Hedden, Brynn and Braelyn Washam, Jaden, Halle, and Carley Rich, and Ava, Brooklynn, and Macie Pendarvis; two step great-grandchildren, Justin Johnson, and Jamie Frank and husband, Jacob; two great-great grandchildren, Jack and Kaylynn Frank; three sisters-in-law, Marjorie Diles, Rachel McGhee, and Lena Johnson; many nieces, nephews, and friends.
She was preceded in death by her parents, William J. and Sarah Diles; her husband, Ralph McGhee; her daughter, Dolores Jan Pendarvis; two brothers, Orville and Dorris Diles; and three sisters, Gladys Cotham, Vida Hall, and Bonnie Agee.
Her family has been her life, especially her grandchildren and ten great-granddaughters. She wore her necklace with ten little girls on it and proudly showed it to everyone.
Lurene was baptized as a young girl at Jeff Church of Christ and worked hard her whole life to be a Christian worker in the Church. You may have enjoyed her fried apple pies, if you were sick or at fellowship dinners. Lanis was lucky to get the last ones she made. She said, "I'm too old to make anymore."
We will miss you Mother/Nanaw/and Aunt Lurene!
Funeral services for Lurene McGhee, age 97, of Thayer, Missouri, will be held Friday, January 6, 2017, at 11:00 AM at the Carter Funeral Home Chapel in Thayer with Barry O'Dell officiating.
The family will receive friends on Friday from 10:00 AM until time of the service at the Carter Funeral Home.
Burial will be in the Thayer Cemetery, with services under the direction of Carter Funeral Home, Inc. in Thayer.
In lieu of flowers, the family requests donations be made in her memory to either Children's Home, Inc. in Paragould, Arkansas or Fulton County Gospel News.