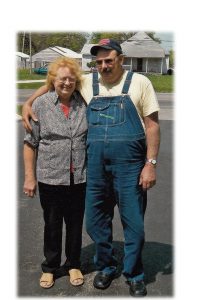 Lue Mullins, daughter of the late Luther Halfacre and Media Alphon Halfacre, was born July 4, 1942 in St. Louis, Missouri and died at her home February 6, 2016 in Caulfield, Missouri.
She was united in marriage October 15, 2010 in West Plains, Missouri to Ron Mullins.
She is survived by her husband, Ron Mullins, of the home in Caulfield, Missouri; two children, Patricia Yvonne Bowers and husband Thomas, Caulfield, Missouri, and Robert Wayne Rosson and Alex Newton, Eureka Springs, Arkansas; one brother, Richard Halfacre and wife Linda, Tecumseh, Missouri; two sisters, Wanda Lee Hayes, Corning, Arkansas and Doris Jean Holifield, Caulfield, Missouri, and one grandson, Trevor William Messer, West Plains, Missouri.
She was preceded in death by her parents; one son, Randy Elco Rosson and one brother, Elmer Clyde Halfacre.
She attended the Mineral Baptist Community Fellowship Church in Caulfield, Missouri.
Lue was very passionate about whatever she did. The loves of her life were Jesus, "Ronnie", and her family. Her animals, Tod, Buddy, and Fiesty were very important to her too. You never had to wonder what she thought about something because she would tell you. She has left an empty place that will be hard to fill but with Jesus' help we can be thankful she is in a far better place now.
Graveside services will be held Wednesday, February 10, 2016 at 2:00 p.m. at White Oak Cemetery, Ozark County, Missouri, with Pastor Kevin Kuk officiating, under the direction of Carter Funeral Home, Inc., West Plains.