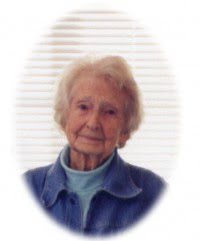 Louise Marie Miller was born the daughter of Lemuel Simpson and Meekie Lucinda Hooper Simpson on July 23, 1919 in Oregon County, Missouri and departed this life on August 7, 2011 in Alton, Missouri at the age of 92 years.
She was united in marriage to Donald Miller, Sr., who preceded her in death.
She is survived by two children, Ann (Barton) Cline of Fenton, Missouri and Jim Barton of Alton, Missouri; twelve grandchildren; numerous great grandchildren; several great-great grandchildren; one sister, Dorothy (Simpson) Boze of Alton, Missouri; many nieces, nephews, other relatives and friends.
She was preceded in death by her parents, Lemuel and Meekie Simpson; her husband, Donald Miller, Sr.; one daughter, Laverne Robbins; one son, Donald K. Miller, Jr.; four brothers, Ralph, Cecil, Thomas and Lloyd Simpson and six sisters, Eva Simpson, May Huddleston, Verna Crews, Mary Lee Sisco, Helen Simpson Hastings and Loreen Parton.
Louise was a cosmetologist, working as a hairdresser for several years. She enjoyed her flower garden and making quilts for her personal use and heirlooms for her family. Her passion in life was her love of animals and spending time with her family.
She will be remembered as a loving mother, grandmother and sister and will truly be missed by all who knew and loved her.
Funeral services will be Wednesday, August 10, 2011 at 10:30 AM in the Bailey Chapel Church near Alton with Doc Barton officiating. The body will lie in state at the Carter Funeral Home Chapel in Thayer. Burial will be in the Bailey Cemetery with services under the direction of Carter Funeral Home, Inc. in Thayer.