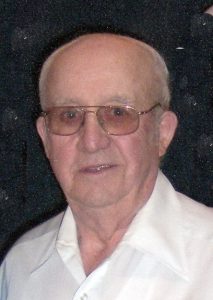 Lavern O. Miller was born the son of Claude Earl Miller and Doshia Ray (Leek) Miller on October 7, 1921 in Rockbridge, Missouri and died on September 10, 2017 at his home in Willow Springs, Missouri at the age of 95 years.
He was united in marriage on April 16, 1946 to Jessie M. Williams.
He is survived his wife, Jessis Mae Miller; one daughter, Beverly Tooley and husband, Kenneth, one son-in-law, Perry Durnell; three brothers, George Miller, Willis Miller and Dorman Miller; one sister, Allie Gentry; six grandchildren; eleven great grandchildren; three great great grandchildren; several nieces and nephews; other relatives and many friends.
He was preceded in death by his parents, Claude and Doshia Miller; one daughter, Betty Jane Durnell; two brothers, Therman Miller and Marvin Miller; two sisters, Geneva Miller and Jane Dubil; and one great great grandchild.
Lavern joined the U. S. Army on August 19, 1942, landed on Omaha Beach on July 10, 1944, and followed General Patton through France and Germany ending up in Salzburg, Austria at the end of World War II.
Lavern was a Christan and a member of the Pomona Christian Church.
He began working for the Frisco Railroad after returning from the war and retired after thirty six year of service.
He was an avid fisherman and also loved spring turkey season and squirrel hunting. Lavern and Jessie Mae would often fish and hunt together.
Lavern loved baseball, especially the St. Louis Cardinals. He played baseball and softball and coached softball teams in the 1960's and 1970's. He still loved to watch the Willow Springs High School softball team play.
Most of all, Lavern loved spending time with his family. He will truly be missed by his family and all those that knew him.
Church services will be held at 2:00 PM at the Pomona Christian Church on Wednesday September 13, 2017 with Reverend Marcus Allen and Reverend Scott Tooley officiating.
The family will receive friends at the church from 12:30 PM until service time.
Burial will be at the Howell Memorial Park Cemetery with services under the direction of Carter Funeral Home, West Plains.