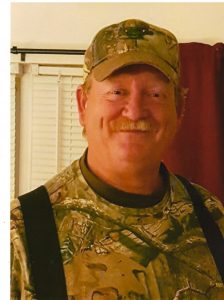 Johnny Ray Bennett was born the son of Johnny Washington and Nettie Elizabeth Hall Bennett in Alton, Missouri, on April 15, 1960, and departed this life at his home in Thayer, Missouri on Saturday (a hunting day) , February 25, 2017, at the age of 56 years.
He is survived by his son, Johnny Ray Bennett, II (J. R.) of Las Vegas, Nevada; his sister, Deloris Bennett of Thayer, Missouri; and three aunts, Murl Bennett of St Louis, Missouri, Ina Bennett Bostic of Thayer, Missouri, and Lessie Bennett of Carthage, Missouri.
He was preceded in death by his parents, Johnny and Nettie Bennett; his aunts and uncles; several cousins; and his best friend, David Gaines.
Johnny Ray never met a stranger and was known for his mastery of storytelling and entertaining anyone who would listen. He was a master craftsman who created many beautiful houses of art across the country. Johnny Ray loved the outdoors and was an accomplished hunter and fisherman. His beloved dogs were his furry children. He loved playing basketball and played in the independent basketball league well into his 40's.
He was a member of the Thayer Free Will Baptist Church and had served as a Sunday school teacher. His knowledge of the Bible was extensive, and he believed that life was precious and that we should enjoy our time here on Earth.
Johnny Ray will be remembered for his good soul, his heart, his laughter, and his love of friends and family. He chose to live life on his own terms. He will be sadly missed.
Funeral services for Johnny Ray Bennett, age 56, of Thayer, will be held, Wednesday, March 1, 2017 at 11:00 AM at the Carter Funeral Home Chapel in Thayer.
The family will receive friends on Tuesday, February 28, 2017 from 6:00 PM to 8:00 PM at Carter Funeral Home in Thayer
Burial will be in Thayer Cemetery.
In lieu of flowers, the family would appreciate a donation toward funeral expenses or feel free to make a donation to a charity of your choice.