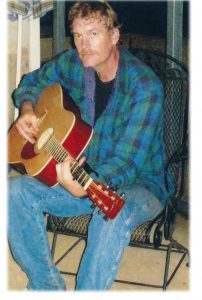 John Louis Martin, II, son of John Martin and the late Elizabeth Ann Bilyeu Martin, was born April 17, 1965 in Kansas City, Kansas and died January 27, 2016 at his home at the age of 50 years.
He was married to Carolyn Meisenheimer June 25, 1996 in Yellville, Arkansas.
He is survived by his wife of the home, West Plains, Missouri; his father, John (Sue) Martin; one son, Conner Martin, Tyler, Texas; four sisters, Rhonda Leslie, Las Vegas, Nevada; Janice Short, Marble Falls, Texas; Donna (David) Lyons, San Antonio, Texas, and Becky (Jim) Renaud, Frisco, Texas, and a host of nieces and nephews.
He was preceded in death by his mother and one brother, Stephen Louis Martin.
John went to Rockwall, Texas Middle School, and graduated high school with the class of 1983 at Rockwall, Texas.
John was a United States Army veteran, having served from 1989 to 1993. He served in Desert Storm and was also stationed in Alaska.
John was a loving husband, son, brother, father, uncle and friend. He enjoyed playing the guitar and drums. He also enjoyed singing, camping, fishing, and being with family and friends. John was a Dallas Cowboys football fan. He was loved by all who knew him. He had a great sense of humor and a wonderful personality. "Toney Chan" was the family nickname.
John loved animals and he loved music. For those of us who loved John we will deeply cherish him for having him in our lives. We celebrate his life and the wonderful man that he was and rejoice that he is in a happy place, at peace, and in great hands with God, Jesus, and family in heaven. "God has John in His arms, but we have him in our hearts." We will see him again in time.
Funeral services for John Louis Martin II will be held on Tuesday, February 2, 2016 at 10:00 a.m. at Carter Funeral Home Chapel, West Plains.
Visitation will be held on Monday, February 1, 2016 from 5 to 7 p.m. at Carter Funeral Home Chapel, West Plains.
Burial will be held at Crawford Cemetery, Harmon, Arkansas, under the direction of Carter Funeral Home, Inc., West Plains.
Military rites will be held immediately after the service on the funeral home parking lot.