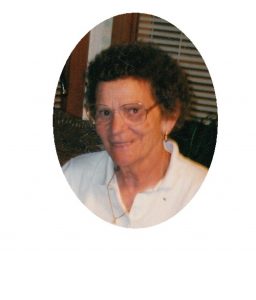 Jessie Leona Highfield passed away peacefully Feb. 23, 2016 at Barton County Memorial Hospital. She was a Christian woman in faith baptized in the cool waters of Warm Fork,  gone to be with our Lord and Savior, Jesus Christ.
She was born February 20, 1926 to Richard and Minnie Vaughn in Koshkonong, Missouri.
She was married to Ralph A. Highfield on September 6, 1947, where they owned and operated a dairy/farm operation. Having two children, Grandma liked to sew, cross stitch, and cook for you, but she really loved walking, covering most every street of Golden City, Missouri.
Jessie is survived by her daughter, Millie (Larry) Billington of Cherokee Kansas; grandchildren, Les (Linsey) Brazeal of Golden City, Missouri, Sigie (Mike) Crocket of Lamar, Missouri, Kimi Stephens of Desto, Kansas, Brandon (Jamie) Brummett of Golden City, Missouri, Clint Highfield of West Plains, Missouri, and Robin McMcormick of Kansas City; seventeen great grandchildren, Shayna, Cooper, Zac, Emily, Nic, Collin, Carter, Cora, Cami, Jessie Jo, Dawson, Mason, Chris, Madison, Cierra, Mackenzie, and Emily and eleven nieces and nephews.
She was proceeded in death by her husband, Ralph Highfield; her brothers, Paul Vaughn and Ernest Vaughn; sisters, Mildred Dills and Maxine Dills; one son, Don Highfield, and one grandson, Wesley Highfield.
She will be greatly missed by all that knew her.
Graveside services for Jessie Highfield will be held on Friday, February 26, 2016 at 10:00 a.m. at Koshkonong Cemetery, Koshkonong, Missouri, under the direction of Carter Funeral Home, Inc., West Plains.
Jessie will lie in state Thursday, February 25, 2016 from 8:00 a.m. to 5:00 p.m. at Carter Funeral Home Chapel, West Plains.