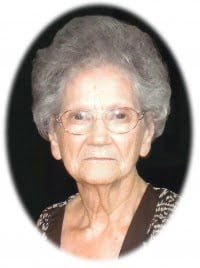 Jean Taylor was born the daughter of Zachary Thomas Langston and Effie Mae (Harper) Langston on December 14, 1930 in Couch, Missouri and departed this life August 7, 2013 in Jonesboro, Arkansas at the age of 82 years.
She was united in marriage December 4, 1948 at Wirth, Arkansas to Gordon Eugene Taylor, who preceded her in death on December 18, 2010.
She is survived by one daughter, Bonita Busch and husband, Don of Couch, Missouri; two sons, Terry Taylor and wife, Peggy of Couch, Missouri, and David Taylor and wife, Nancy of Myrtle, Missouri; ten grandchildren, Brenda Taylor, Tracee Baldwin, Libby Frankenberger, Marcia Kerley, Wesley Taylor, Megan Taylor, Zachary Taylor, Angela Meredith, Belinda Privett and Rachel McIntosh; fourteen great grandchildren; one brother, Robert Langston of Couch, Missouri; two sisters, Olive DeLadurantaye and Hazel Langston, both of Hampton, Virginia; two sisters-in-law, Joyce Taylor and Jean Langston; best friend, Susie Roberts; several nieces and nephews; other relatives and many friends.
She was preceded in death by her parents; one daughter, Beverly Taylor; one great grandchild, Aiden McIntosh; one sister, Gerry Lassiter; one brother, Edsel Langston; two infant brothers, Earl and Harvell Langston; and special friend, Lucille Cypret.
Jean enjoyed growing flowers, her grandchildren, cooking for her family, and was a St. Louis Cardinal and Arkansas Razorback fan. She was a faithful member of the Centerpoint Church of God of Prophecy, where she loved to worship, and be with her church family. For many years, she loved singing with the Harmonettes Gospel ensemble.
Jean was a quiet Christian lady with a sweet gentle spirit. The twinkle in her eyes and cheerful smile reflected the love she had for her family, friends, and God.
She was a devoted and loving wife, mother, grandmother, and sister, and will truly be missed by her family, friends, church family and the community in which she lived.
Funeral Services for Mrs. Taylor will be at 2:00 PM, Saturday, August 10, 2013 at the Carter Funeral Home Chapel in Thayer, Missouri with Brother Jake Lawrence officiating.
The family will receive friends at the Funeral Home on Saturday from 12:00 noon until the time of the service.
Burial will be in the Myrtle Cemetery in Myrtle, Missouri.