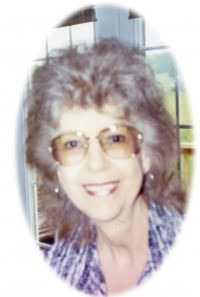 Edith Louise Sloan was born the daughter of Norval Hunsperger and Dowan Day Hunsperger on December 8, 1935 at Koshkonong, Missouri and departed this life April 28, 2011 in Springfield, Missouri at the age of 75 years.
She was united in marriage June 16, 1956 at Peoria, Illinois to John Lee Sloan.
She is survived by her husband of 54 years, John Sloan of the home in Koshkonong, Missouri; two sisters, Patsy Hightower of Thayer, Missouri and Hazel Johnson of Zebulon, Georgia; several nieces and nephews and two special friends, Goldina Hansen and Donna Qualls.
She was preceded in death by her parents, Norval and Dowan Hunsperger; two brothers, Bill Cowens and John Hunsperger; three sisters, Yvonne Johnston, Betty Evans and Iona Nickels and one infant brother, Frankie Hunsperger.
Edith and her husband, John, shared in their passion of antiques. They enjoyed looking for antiques at yard sales, flea markets and attending auctions together.
She was of the Protestant faith, a dedicated homemaker and will be remembered as a devoted and loving wife, sister, aunt and friend. She will truly be missed by her family and many friends.
Graveside services will be Sunday, May 1, 2011 at 2:00 PM in the Wayside Cemetery at Koshkonong, Missouri with Brother Darrell Mitchell officiating. Burial will be in the Wayside Cemetery with services under the direction of Carter Funeral Home, Inc. in Thayer.