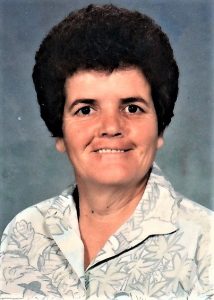 Dorris Louise Summers was born in Myrtle, Missouri, the daughter of Jess "J.W." Garrison and Alpha Williams Garrison on July 16, 1941 and departed this life on February 10, 2019 at Shady Oaks Healthcare in Thayer, Missouri, at the age of 77 years.
She was united in marriage to James Lee Summers on June 18, 1960 in Myrtle, Missouri. He preceded her in death on December 3, 2017.
She is survived by her daughter, Deanna Summers of Jefferson City, Missouri; her son, James Michael Summers and wife, Sandy, of Myrtle, Missouri; one brother, Joe Garrison and wife, Teresa, of Myrtle, Missouri; one sister-in-law, Jewell Garrison of Myrtle, Missouri; five grandchildren, Mikael, Jill, Cierra, Sheyenne and Jake; three nieces, Kim O'Neill and husband, Fred, Kristen Parker and husband, Lucas and Aminta Combs and husband, Darren; one nephew, Justin Garrison; two great nieces, Keeley and Jessica; three great nephews, Alex, Ryan and Brady; one great-great niece, Ansley; and one great-great nephew, Brody; other relatives; and countless friends.
She was preceded in death by her husband, James Lee Summers; her parents, J.W. and Alpha Garrison; one brother, Richard Garrison; and two infant sisters.
Dorris was a Christian and member of the Byrd Freewill Baptist Church. She was a teacher's aid at Couch School, retiring after many devoted years.
She was a talented seamstress, putting together many beautiful pieces for friends and family. Her hobbies included reading and crossword puzzles. Most of all, she cherished time with her grandchildren, especially time spent spoiling her only grandson, Jake.
Dorris will be remembered as a devoted and loving wife, mother, sister and grandmother, and a friend to all. She will truly be missed by all that knew her.
Funeral Services will be held on Wednesday, February 13, 2019 at 10:00 AM at the Byrd Church in Myrtle, Missouri with Brother Richard Todd officiating.
Family will receive friends on Tuesday, February 12, 2019 from 6:00 – 8:00 PM at the Carter Funeral Home Chapel in Thayer, Missouri.
Interment will be at the Byrd Cemetery in Myrtle, Missouri following the funeral service.
Arrangements are under the direction of Carter Funeral Home, Inc. in Thayer.