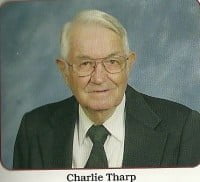 Charlie Abner Tharp, son of the late Charles Abner and Pearl Emina Johnson Tharp, was born September 23, 1923, at Humble, Texas. He entered into eternal rest in his Father's house at the age of 87 on January 31, 2011, from his home in Lawrenceville, Georgia.
An Army Veteran of WWII, he married Dorothy Marjorie Rimbey on March 11, 1946, at Newton, Kansas. They enjoyed over 46 years of marriage together prior to her death 18 years ago.
Rev. Tharp was a graduate of Southwestern Baptist Theological Seminary, Ft. Worth, Texas. Serving for many years as a Southern Baptist Minister, he was the former Pastor of Briar East Baptist Church, Hammond, Indiana; Westchester Baptist Church, Chesterton, Indiana; New Hope Baptist Church, Peace Valley, Missouri; and Second Baptist Church, West Plains, Missiouri.
He is survived by his sister and brother-in-law, Juanita and V.E. McNeese; three sons and daughters-in-law, Terry and Carmelita Tharp, David and Candy Tharp, and Kenneth and Viola Tharp; three daughters and sons-in-law, Dianne and Rick Hall, Anita and Robert Paarlberg, and Carol and David Caudell; 16 grandchildren; two great grandchildren; and many nieces and nephews.
He is preceded in death by his wife, Dorothy; his parents; two brothers, Owen and Wilburn; three sisters, Ada Mae Tucker, Eula Fae Landry and Earl Bernice Garrett; daughter-in-law, Theresa; and several nieces and nephews.
The Funeral Service will be held at 2:00 p.m., Saturday, February 5th, 2011, at Carter Funeral Home, 1316 Porter Wagoner Blvd., West Plains, Missouri. Interment will follow at Howell Memorial Park, 5604 Hwy. 63, Pomona, Missouri. The family will receive friends on Friday, February 4th, from 6:30-8:30 p.m. at Carter Funeral Home.