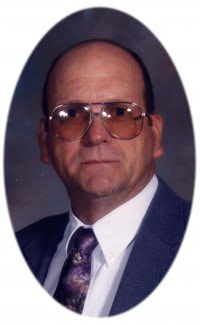 William Martin "Bill" Garrison was born the son of Herman T. Garrison and Jewell Lucille Hensley Garrison on September 7, 1941 in Sikeston, Missouri and departed this life May 16, 2011 in Thayer, Missouri at the age of 69 years.
He was united in marriage May 26, 1962 in Thayer, Missouri to Betty Anne Hirsch.
He is survived by his wife, Betty Anne Garrison of the home near Myrtle, Missouri; one son, Dr. Brent Garrison and wife, Cindy of Thayer, Missouri; two granddaughters, Carley Grace and Abbey Cristine Garrison of Thayer, Missouri; four brothers, Tom Garrison and wife, Jessie Mae of Myrtle, Missouri, Carroll Garrison and wife, Emma of Myrtle, Missouri, David Garrison and wife, Brenda of Myrtle, Missouri and Steve Garrison and wife, Rochelle of Salem, Arkansas; one sister, Kathy Huddleston and husband, Roger of Alton, Missouri; his mother-in-law, Ethel Hirsch of Thayer, Missouri; six brothers-in-law, Albert Hirsch, Herbert Hirsch and wife, Kathleen, Gary Hirsch, Roy Hirsch and wife, Debbie, Bill Hirsch and wife, Cindy and Larry Hirsch and wife, Betty; four sisters-in-law, Marie Vincent and husband, Harry, June Davis and husband, Danny, Janice Howell and husband Johnnie and Kathy Azar and husband, Tony; numerous nieces, nephews, other relatives and many friends.
He was preceded in death by his parents, Herman and Lucille Garrison; his father-in-law, Albert Hirsch; one niece; two great nieces and one brother-in-law, Ernie Bray.
Bill was an active member of the St. Paul United Methodist Church. He has served on the Administrative Council and was Chairman of the Board of Trustees and as usual with Bill, he served anywhere he was needed.
As a young boy, Bill attended and graduated from Couch School where he developed a strong base for education. After graduation, he worked his way through school at the West Plains Residence Center, South Missouri State University, Drury and Arkansas State University, earning Bachelor's, Master's and Specialist Degrees. His diplomas meant a lot to him since it took him 30 years to obtain them. He used this education to teach at the Koshkonong and Ava Schools. He also served as a school administrator at Oak Ridge Central, Couch, and Thayer Schools. One of the highlights of his Superintendency was the passage of the bond issue and the building of the elementary school. He spent many hours overseeing the completion of this project in time for the teachers and students to begin the 2004-05 school year in this new environment. He retired as Superintendent of Thayer School in 2007.
During the time he was going to college he served three years in the United States Army, spending thirteen months in Korea during the Vietnam War. Also during his college years, he was co-owner and later the sole owner of the Garrison Store at Garfield.
Bill has been an active member of the Rotary Club for 14 years, working many hours at the Bobcat football concession stand, the radio auction and community garden, as well as various other projects.
He was a hard worker who rarely found a problem he wasn't willing to tackle. He loved to do carpentry work and enjoyed fishing. The joy and light of his life were his two granddaughters, Carley and Abbey.
Funeral services will be Thursday, May 19, 2011 at 2:00 PM in the Thayer High School Gymnasium. The family will receive friends Wednesday, May 18th from 6:00 to 8:00 PM at the funeral home. Burial will be in the Thayer Cemetery with services under the direction of Carter Funeral Home, Inc. in Thayer.
In lieu of flowers, contributions may be made at the Bank of Thayer to the William Garrison Memorial Scholarship Fund.