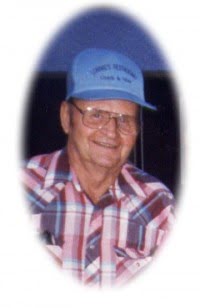 Walter Wilson Cook was born the son of Napaleon Dallas Cook and Martha Ann McIntire Cook on March 17, 1921 at Gordonville, Missouri and departed this life March 25, 2011 in Thayer, Missouri at the age of 90 years.
He was united in marriage May 21, 1960 in Rockford, Illinois to Bettie Bryant.
He is survived by his wife, Bettie Cook of the home in Thayer, Missouri; five children, Carolyn Mercer of Arlington, Tennessee, Darlene Worley of Elkland, Missouri, Gary Cook of Nixa, Missouri, Lori Jewell of Thayer, Missouri and Clinton Huff of Allen, Texas; seventeen grandchildren; twenty-seven great grand-children; four great-great grandchildren; two sisters, Ellen Dickey of Sikeston, Missouri and Esther Roberts of Harrison, Arkansas, other relatives and many friends.
He was preceded in death by his parents, Napaleon and Martha Cook; one son, Larry Cook; one daughter, Lois Ann McComas; two grandsons; one great grandson and twenty brothers and sisters.
He was a Veteran of the United States Army, proudly serving his country during World War II. He was a member of the VFW Post 7831 in Mammoth Spring, Arkansas.
Mr. Cook was a talented carpenter and will be remembered by many for his trim work. He was a Christian and attended Union Hill Baptist Church for many years. He was deeply devoted to his family and will truly be missed by all.
Funeral services for Walter Cook, age 90, of Thayer, Missouri will be held  Monday, March 28, 2011 at 2:00 PM in Carter Funeral Home Chapel with Brother John Holesapple officiating.  The family will receive friends Monday, from 1:00 PM until time of service.  Burial will be in Eagles Rest Cemetery under the direction of Carter Funeral Home, INC in Thayer.