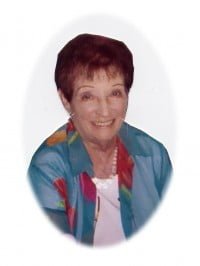 Viola Josephine Dunsmore, born July 5, 1921 near Thayer, Missouri, the daughter of Ed and Ethel Langley Arnold, departed this life September 20, 2011 at the age of 90 years.
Viola (Vi) graduated from Couch High School in Oregon County. She married Harold Dunsmore, the father of her children, in 1940. She spent most of her life in Brookfield and Kansas City, Missouri. She lived in Southern California where she married Fred Koenig, later returning to Kansas City and Lake Waukomis, Missouri. Both preceded her in death.
She was also preceded in death by her parents, Ed and Ethel Arnold, sister Marie and brother-in-law, Hershel Arnold and son-in-law, Dick Davolt.
Survivors include her two children, Dwayne and his wife, Eleanor Dunsmore of Lake Waukomis, Missouri and Bobbie Davolt of Kansas City, Missouri. She was "Nannie" to her grandchildren that she adored, Robin and Jim Atkins of Bonita Springs, Florida; Michael Maddox of Kansas City, Missouri; Stephanie and Tim Kallas of Independence, Missouri; great-grandchildren, Nickolas Kallas, Ashley Kallas, Seth Crede and Chris Kallas; a very special great-great-granddaughter, Gracelynn Joy Crede; nephews, Elden (Sandy) Arnold and Curtis (Carol) Arnold; other relatives and friends.
While in Brookfield, she was an active member of Park Baptist Church, Florence Chapter of Eastern Star and Hanna Hull Chapter of Daughters of American Revolution. She was a current member of Unity Church in Kansas City, Missouri.
She spent her working years in real estate, retailing and retired from KPL Gas Service.
She enjoyed growing and caring for her flowers. Her special "Holiday Meals" were the delight of her family, the large quantities of food provided many "doggie bags". Her special smile and melody of her greetings inspired her family. She was a loving mother, grandmother, great-grandmother and great-great-grandmother. She will truly be missed.
Funeral services will be Sunday, September 25, 2011 at 2:00 PM in the Carter Funeral Home Chapel at Thayer. The family will receive friends from 1:00 PM until service time. Burial will be in the Thayer Cemetery with services under the direction of Carter Funeral Home, Inc. in Thayer.