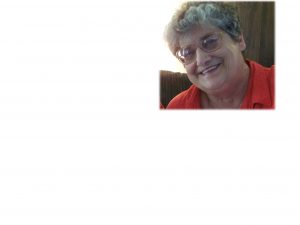 Suzanne Frances Edwards "Sue" was born the daughter of Victor Benedict Williams and Elaine Mercedes (Welch) Williams on October 10, 1942, at Little Company of Mary Hospital in Evergreen Park, Illinois, and departed this life May 5, 2018, at her home in Cabool, Missouri, at the age of 75 years.
She was united in marriage by Judge Francis McCurrie on June 12, 1967, at the Marriage Court of Cook County in Chicago, Illinois, to William H. "Bub" Edwards.
She is survived by her children and their families; son, Michael William Edwards and wife, Miranda of Colcord, Oklahoma; daughter, Elizabeth Coppinger and husband, Stephen of Edgar Springs, Missouri; five grandchildren, Jordyn Elaine Edwards, Jedidiah William Edwards, Eden Suzanne Edwards, Hunter Hendren, and Conor William Coppinger; sisters-in-law, Rita Fairfax and husband, Jim of Sedalia, Missouri and Sherry Edwards of Thayer, Missouri; nephew, Brad Jones of Sedalia, Missouri; niece, Hope Edwards of Platte City, Missouri; other relatives and too many friends to ever accurately count.
She was preceded in death by best friend and husband, Bub Edwards and her parents, Vic and Elaine Williams.
Sue was a 1960 graduate of Evergreen Park High School. She held many jobs as a young woman, including jobs with General Electric and Elliott Paint and Varnish Company in Evergreen Park, Illinois, and she spent time as a Certified Nursing Assistant before meeting and marrying the love of her life, Bub Edwards. She spent the remainder of her life as Bub's devoted wife and mother to their children.
She was of the Catholic faith and will be remembered as a deeply devoted wife, mother, MiMi, and loyal friend. She will truly be missed by all.
Funeral services for Suzanne F. Edwards will be held on Tuesday, May 8, 2018, at 2:00 PM at the Carter Funeral Home Chapel in Thayer with Brother Edward Casey officiating.
The family will receive friends on Monday, May 7, 2018, from 6:00 PM to 8:00 PM at the Carter Funeral Home in Thayer, Missouri.
Interment will be in Thayer Cemetery in Thayer, Missouri with services under the direction of Carter Funeral Home, Inc. in Thayer.