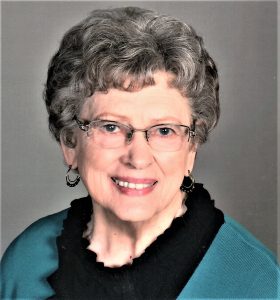 Ruth Marie Honeycutt was born in Randolph County, Arkansas, the daughter of Everett Risner and Oma Hall Risner on March 18, 1930, and departed this life on November 3, 2018 in Fort Collins, Colorado, at the age of 88 years.
She was united in marriage to Berry Honeycutt in Randolph County, Arkansas, in October of 1946. He preceded her in death on January 25, 2000.
She is survived by her son, Paul Honeycutt and wife, Susan, of Edmond, Oklahoma; her daughter, Jana Frei and husband, Bud, of Fort Collins, Colorado; two brothers, Richard Risner of West Plains, Missouri and Lester Risner and wife, Peggy, of Collierville, Tennessee; six grandchildren, Chris Honeycutt, Kari Vaughn and husband, Donny, Kelli Nichols and husband, Dustin, Jascha Frei, Jason Frei and wife, Ariel, and Kayla Frei and fiancée, Dusty Lasseter; seven great grandchildren, Jade, Keegan, Riley, Madie, Bayler, Annie and Reagan; several nieces and nephews, other relatives and many friends.
She was preceded in death by her parents, Everett and Oma Risner; her husband, Berry Honeycutt; one sister, Ruby Utley; one brother-in-law, Frank Utley; and one sister-in-law, Joyce Risner.
Ruth was a Christian and former member of the Edmond Church of Christ in Edmond, Oklahoma, for many devoted years. After moving to Colorado, she became a member of the Meadowlark Church of Christ in Fort Collins.
She spent twenty-five dedicated years as a Real Estate Broker. She was a talented seamstress, making beautiful creations for her family and friends. She was also an excellent cook and enjoyed preparing delicious meals for her family. Ruth was a loving and caring wife, mother, grandmother, sister and friend. She will truly be missed by all that knew her.
Graveside services will be held on Friday, November 9, 2018 at 11:00 AM at the Thayer Cemetery in Thayer, Missouri with Lester Risner officiating.
Family will receive friends on Friday, November 9, 2018 from 10:00 AM until service time at the Carter Funeral Home Chapel in Thayer.
Arrangements are under the direction of Carter Funeral Home, Inc. of Thayer, Missouri.