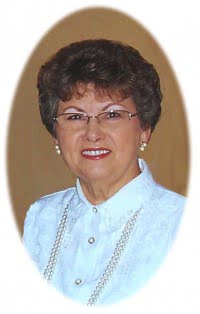 Funeral services for Ruby Louise Risner Utley will be held Friday, May 20, 2011 at 10:00 a.m. at Curry Street Church of Christ, West Plains, Missouri. Visitation will be held Thursday, May 19, 2011 at Carter Funeral Home Chapel, West Plains, Missouri from 6 to 8 p.m. Burial will be in Thayer Cemetery, Thayer, Missouri.
Ruby Louise Risner Utley went to be with the Lord on May 17 , 2011.
She was born in Randolph County Arkansas, near Wirth, on May 26, 1939, to Everett and Oma Hall Risner.
She was preceded in death by her parents.
Ruby lived near Wirth until 1954, then moved to Missouri and attended Thayer High School where she met her husband, Frank Utley. They were married for 53 years. Faith and family were always the main focus of Ruby's life, but she found the time and energy to be involved in many interests and to enrich the lives of countless friends and those in need. In addition to supporting her husband's work, Ruby graduated from Arkansas State University in 1976 and pursued several business interests of her own. From 1978 to 2000 Ruby enjoyed selling real estate and welcoming many new families to West Plains and the surrounding communities. Ruby was a member of the Curry Street Church of Christ. She enjoyed family gatherings, Bible study, golf (mostly golf of Frank and her sons), card games, sewing,cooking, entertaining and hospitality.
Remembering her sparkling brown eyes and dazzling smile are her husband Frank, her two sons, Stan Utley (Elayna) of Scottsdale, Arizona and John Utley of Columbia, Missouri; her grandchildren, Tatum Utley, Jake Utley, and John Henry Utley. She is also survived by one sister, Ruth Honeycutt of Edmond Oklahoma, and two brothers Richard Risner of West Plains, Missouri, and Lester Risner of Collierville, Tennessee.
The family wants to thank Ruby's loving and truly gifted caregivers, Doctor Charles Morgan and Regina Perry as well as the staffs at OMC and NHC health care facilities. In lieu of flowers, the family asks that you remember Ruby by doing some unexpected act of kindness or making a gift to Ruby Utley Memorial Fund to support the enhancement of young lives through golf.
Donations may be made out to:
MGAJR Golf Foundation
Mailed to:
Ruby Utley Memorial Fund
c/o John Utley
503 E Nifong Blvd, #244
Columbia, MO 65201