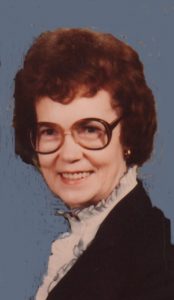 Ruby Dean Barker was born the daughter of Hubert John Taylor and Virgie (Miller) Taylor on May 27, 1929, in Mammoth Spring. Arkansas and died May 20, 2017, in Thayer, Missouri, at the age of 87 years.
She was united in marriage on September 20, 1947, in Mammoth Spring, Arkansas, to Owen Ray Barker who preceded her in death on February 24, 2004.
She is survived by her daughter-in-law, Hazel Barker of Eloy, Arizona; one sister, Betty Griffith and husband, Bob of Thayer, Missouri; two grandchilden, Shelly Justus and husband, Stephen of Mammoth Spring, Arkansas and Ray Barker and his wife, Missy, of Salem, Arkansas; five great grandchildren; eight great great grandchildren; two step grandchildren; several nieces, nephews; other relatives and many friends.
She was preceded in death by her parents, Hubert and Virgie Taylor; her husband, Owen Ray Barker; her son, Danny Ray Barker; one brother, Douglas Taylor; two sisters, Meda Lemmons and Willie Rose Nicholson, and one adopted sister, Judy Jones.
She was a member of the Church of Christ since a young age and faithfully attended the Mammoth Spring congregation as long as health permitted. She was also a member of the VFW auxiliary and the Mammoth Spring Garden Club. In her working years, she was employed as a Clerk for the State of Missouri in Fulton, Missouri for many years.
She will truly be missed by her family and many friends.
Funeral services for Ruby Barker will be held Wednesday, May 24, 2017 at 2:00 PM at the Carter Funeral Home Chapel in Thayer with Barry O'Dell officiating.
Visitation will be Tuesday evening at Carter Funeral Home from 6-8 PM.
Burial will be in Riverside Cemetery with services under the direction of Carter Funeral Home, Inc in Thayer.