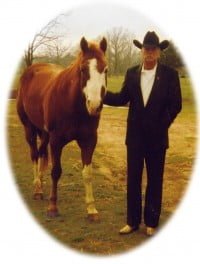 Roy Edward Rideout was born the son of Robert T. Rideout and Vera E. Bussel Rideout on August 26, 1948 in Koshkonong, Missouri and departed this life April 3, 2011 at his home in Koshkonong, Missouri at the age of 62 years.
He was united in marriage April 14, 1969 in Tampa, Florida to Delsie Howell.
He is survived by his wife, Delsie Rideout, of the home in Koshkonong, Missouri; one son, Douglas Paul Rideout and wife, Shelly of Clarksville, Arkansas; one daughter, Julie Ann Humphreys and husband, Mike of Hernando, Mississippi; five grandsons, Mason, Tyler, Alex, Dillon and Nick; three granddaughters, Haley, Lauren and Bailey; two sisters, Kay Botzenhart and husband, Walter of West Plains, Missouri and Terry Tinsley and husband, Eldon of Koshkonong, Missouri; his mother-in-law, Marie Howell of Koshkonong, Missouri; two aunts, Mabel Uhlmann and Dortha Taylor, both of West Plains, Missouri; one uncle, Henry Rideout of Palo Alto, California; four sisters-in-law and husbands, Betty and Lewis Childers, Wilma and Jim Boze and Shirley and John Smith, all of Koshkonong, Missouri and Jeannie and Dale Kester of Branson, Missouri; two brothers-in-law and wives, Jimmie and Virginia Howell and Jackie and Amy Howell, all of Koshkonong, Missouri; several nieces, nephews, other relatives and friends.
He was preceded in death by his parents, Robert and Vera Rideout; his grandmother, Hester Bussel and his father-in-law, Norman Howell.
Roy was a former member of the Missouri Army National Guard, a livestock farmer and enjoyed golf.
He will be remembered as a devoted husband, father, grandfather, brother and neighbor. He will truly be missed by all.
Graveside services will be Tuesday, April 5, 2011 at 10:00 AM in the Wayside Cemetery at Koshkonong, Missouri with services under the direction of Carter Funeral Home, Inc. in Thayer.