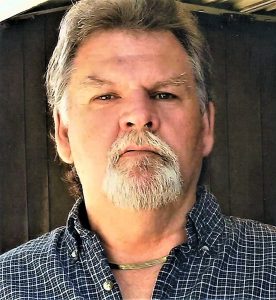 Robert Jeffery Martin was born in Keiser, Arkansas, the son of Morris Martin and Billie Jeffery Martin on March 3, 1957, and departed this life on October 8, 2018, in Walnut Ridge, Arkansas, at the age of 61 years.
He is survived by his mother, Billie Jeffery Martin; one daughter, Brittany Martin of Ravenden Springs, Arkansas; two step-sons, Carl Mardis of Dallas, Texas and Justin Mardis of Alton, Missouri; one brother, Tim Martin and wife, Melinda, of Keiser, Arkansas; two sisters, Cheryl Martin of Keiser, Arkansas, and Donna Martin and husband, Clifford, of West Plains, Missouri; one grandchild, Karston Hatfield of Ravenden Springs, Arkansas; several nieces and nephews who were very special to him; other relatives; a host of friends; and his special four legged buddy, Pedro.
He was preceded in death by his father, Morris Martin; his brother, Dale Martin; one niece, Kelly Puckett; and one nephew, Jason Combs.
Robert was a Veteran of the United States Army, serving our country proudly in the Vietnam War.
He was a Christian and member of the First Baptist Church in Myrtle, Missouri.
Robert adored his only grandson, Karston, who he spent much of his time with.
He was an avid hunter and fisherman, and loved spending his time outdoors.
He will be remembered as deeply devoted to his family, a good friend and neighbor. Robert will truly be missed by all that knew him.
Funeral services will be held on Sunday, October 14, 2018 at 3:00 PM at the Cotton Creek Freewill Baptist Church in Couch, Missouri, with Brother Russel Hensley officiating.
The family will receive friends on Sunday from 2:00 PM until service time, at the church.
Interment will be at the Cotton Creek Cemetery in Couch, Missouri.
Arrangements are under the direction of Carter Funeral Home, Inc in Thayer.