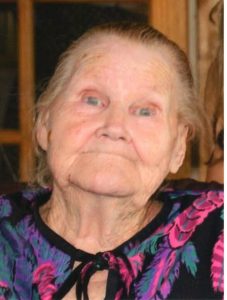 Rena Mae Lowder was born the daughter of William Everett and Alice (Hester) Everett on February 8, 1931, in Mark Tree, Arkansas, and departed this life on December 20, 2016, in Salem, Arkansas, at the age of 85 years.
She was united in marriage on October 11, 1947 in Piggott, Arkansas, to Earl Lowder who preceded her in death on June 11, 1980.
She is survived by three daughters, Vera Hacker and husband, Doug, Sharon Dutcher and husband, Richard and Michelle Lundry and husband, Leon; five sons, Earl (Butch) Lowder, Jr. and wife, Donna, Ronald Lowder, Michael Lowder and wife, Linda, Jeff Lowder and wife, Tina, and Timothy Lowder and wife, Jen; many grandchildren, great grandchildren and great great grandchildren; several nieces and nephews; other relatives; and a host of friends.
She was preceded in death by her parents, William and Alice Everett; her husband, Earl Lowder; one son, Daniel Lowder; three brothers, Lavern White, Melvin Everett and Levi White; and infant brother, William Everett.
She was a Christian and of the Pentecostal faith. While she was able, she enjoyed bringing others with her to the church services at the United Pentecostal Church.
She spent most of her life as a homemaker. She would always help people in need and she spent time caring for the elderly.
She was an awesome cook and loved to cook for her family. She was especially known for her fried chicken.
She will truly be missed by her family and many friends.
Funeral Services for Rena Lowder will be held Friday, December 23, 2016 at 2:00 PM at the Carter Funeral Home Chapel in Thayer, Missouri, with Brother Clay Risner officiating.
The family will receive friends on Thursday, December 22, 2016 from 6:00 PM to 8:00 PM at the Carter Funeral Home in Thayer, Missouri.
Burial will be in Thayer Cemetery under the direction of Carter Funeral Home in Thayer.