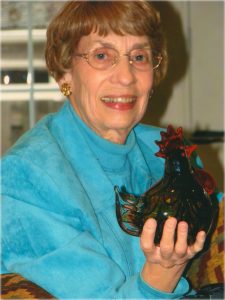 Reba Juanita (Paxton) Callahan was born the daughter of Lonnie L. Paxton and Anna Mae (Lasseter) Paxton on July 3, 1932, in Mammoth Spring, Arkansas, and died on August 27, 2015, at her home in Springfield, Missouri, at the age of 83 years.
She was united in marriage on May 15, 1954 at Thayer, Missouri, to Travis Callahan.
She is survived by her husband, Travis Callahan of the home in Springfield; two sons, Jack Callahan and wife, Suzanne of Jonesboro, Arkansas, and Neal Callahan and wife, Jennifer of Springfield, Missouri; three grandchildren, Chase Callahan and wife, Morgan, Carter Callahan and Emily Prince; one brother, Richard Paxton and wife, Hazel of Olive Branch, Mississippi; one sister-in-law, Shirley Kerby of Mammoth Spring, Arkansas; four nephews, Mike Paxton, Jeff Paxton, Tim Paxton and Ryan Kerby; two nieces, Denise Frazier and Melinda Kerby; other relatives, and many friends.
She was preceded in death by her parents, Lonnie and Anna Mae Paxton; one brother-in-law, Cletes Kerby; and one nephew, Richard Kerby.
Reba was a graduate of the Mammoth Spring High School, graduating with the class of 1950.
She was a proficient bookkeeper, starting her long career with Memphis Light, Gas & Water. After returning to Thayer, she worked for many years as bookkeeper for Central Ozarks Livestock Auction as well as various other livestock auctions in the area.
Reba worked in real estate sales for several years with United Farm Agency. She, along with business partner, Sam Rhoades was instrumental in establishing Country Network/Town & Country Realty where she worked as Broker/Partner.
She enjoyed painting landscapes, and caring for her home and family. She was a long time member of the First Assembly of God Church in Thayer.
She will be remembered as a devoted wife, loving Mother and grandmother, and a friend to all.
Funeral services for Mrs. Callahan will be held Monday, August 31, 2015, at 2:00 PM in the Carter Funeral Home Chapel in Thayer with Dr. Jeff Paxton officiating.
The family will receive friends at the Carter Funeral Home Chapel in Thayer on Sunday afternoon, August 30th from 2:00 until 4:00 PM.
Burial will be in Riverside Cemetery in Mammoth Spring, Arkansas.