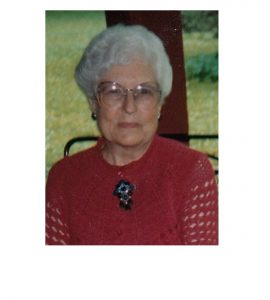 It is not the number of years you live, but the quality of them. Sue Ellen Moore, born September 12, 1920 was one of the fortunate women to claim both a long and rich life. She was born to Plato and Eva Caroll in Crowell, Texas where she was raised with her three siblings on the cotton farm. She was educated in Needmore, Texas until the eleventh grade when she met the love of her life Ernest R. Moore.
Sue Ellen and Ernie raised two children, Gerald Moore of Junction City, Oregon and Sue Willard of West Plains, Missouri, while traveling from one job to the next ranging from Alaska to Cuba. After the children were raised, they settled for five years in Springhill, Tennessee where they were the superintendents of Springhill Children's Home. She cherished this time with her husband, and the 175 children they served. She moved to Missouri in 1977, Ernie passing away only four years later.
The last forty years she has shared a driveway with her daughter Sue and her husband Dennis Willard in West Plains, Missouri and has watched her family grow with delight. Sue Ellen has five grand children: Charles Willard, Susan Manis, Amy DeMott, Chris Moore, and Bryan Moore, and seven great-grandchildren: Makay Manis, RJ Manis, Luke Willard, Claire Willard, Ella DeMott, Sam DeMott, and Willard DeMott.
Her grandchildren and great-grandchildren would find Sue Ellen baking legendary cookies, working on puzzles, watching old movies, or sitting in her chair crafting. She kept special letters in her Bible from her family far away, and an open door for her daughter, Sue, who was able to be there every day.
Sue Ellen would be proud to say the high point of her life was becoming a member of the Church of Christ at sixteen. She was a member of the Curry Street Church of Christ in West Plains. Her faith and her family were her priorities and will remain her legacy.
Graveside services for Sue Ellen will be held on Sunday, October 2, 2016 at 2:00 pm at Howell Memorial Park Cemetery, Howell County, Missouri.