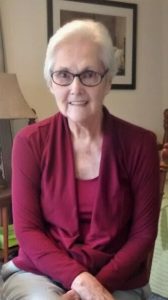 Norma Marie Edwards, the daughter of Frank Lee Newberry and Virgie Ellen (Cline) Newberry, was born September 11, 1934, in Owasso, Oklahoma and departed this life on Saturday, August 5, 2017, at her home in Springfield, Missouri.
She was raised in Thayer, Missouri, graduating with the class of 1952. Norma married her childhood boyfriend, Ralph (Bud) Edwards on November 24, 1951, at Mammoth Spring, Arkansas, who preceded her in death on January 8, 2005.
After raising their family in Memphis, Tennessee, Bud and Norma relocated to West Plains, Missouri in 1982. Norma was employed with Missouri Department of Family Services, retiring in 1999.
She enjoyed playing and watching golf, bowling, MSU Lady Bears basketball, and caring for her beloved cats. After moving to Springfield, Missouri, she enjoyed supporting the Victory Mission and other charitable endeavors.
She was preceded in death by her parents and husband of fifty plus years.
She is survived by her children, Ralph Edwards and wife, Taru, of West Plains and Diane Smith and husband, Bert, of Springfield; her sister, Mary Lou Evans and husband, Max, of The Woodlands, Texas, along with several nieces, nephews, cousins and many friends.
She will be remembered as a beloved mother and sister and will truly be missed by all who knew her.
The family will receive friends Wednesday, August 9, 2017, from 6:00 until 8:00 PM at the Carter Funeral Home Chapel in Thayer.
Graveside services will be held Thursday, August 10, 2017, at 10:00 AM at the Thayer Cemetery with services under the direction of Carter Funeral Home, Inc. in Thayer.
In lieu of flowers, contributions may be made in her memory to the West Plains Regional Animal Shelter or the Victory Mission in Springfield.