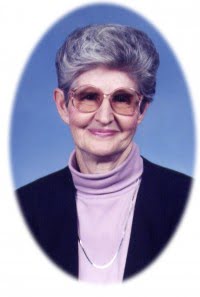 Neva Jo Fraley was born the daughter of Bynum Miller and Mildred Hyde Miller on September 23, 1931 at Gatewood, Missouri and departed this life July 1, 2011 in Houston, Missouri at the age of 79 years.
She was united in marriage August 27, 1949 at Thayer, Missouri to Glen Fraley.
She is survived by her husband of 61 years, Glen Fraley of the home in Houston, Missouri; two daughters, Brenda Manns and husband, Don of Junction City, Kansas and Nancy Branson and husband, David of Houston, Missouri; three grandchildren, Jennifer Rose and husband, Dean of Summerville, South Carolina, Elizabeth Tharp and husband, Loren of West Plains, Missouri and Sara Jo Flora and husband, Jim of Pleasant Hope, Missouri; eight great-grandchildren, PFC Tevin Geike of Ft. Lewis, Washington, Jarod Geike, Morgan Rose, Connie Rose and J.T. Rose, all of Summerville, South Carolina and Abigail Flora, Ellie Flora, and J.D. Flora, all of Pleasant Hope, Missouri; two brothers, Dr. George Miller and wife, Dona of Springfield, Missouri and John Miller and wife, Gayle of Canadensis, Pennsylvania; one sister, Pat Hatman and husband, Gene of Thayer, Missouri; one sister-in-law, Faith Lovelace and husband, Billy Joe of West Plains, Missouri; several nieces, nephews, other relatives and many friends.
She was preceded in death by her parents, Bynum and Mildred Miller; her parents-in-law, Willis and Susan Fraley; a sister-in-law, Clestyl Clark and husband, John and four nephews.
Neva became a member of the First Baptist Church in Thayer at the age of thirteen, serving her church in many ways. After moving to Houston in 2005, she became a member of Ozark Baptist Church and remained a faithful member until her death.
She was a 1949 graduate of Thayer High School. After graduation, she went to work for Ozark Central Telephone Company and continued that line of work, retiring from GTE after 35 years of service.
After retiring, she and her husband, Glen enjoyed traveling and volunteered at Fun and Friends Senior Citizen Center, delivering meals to shut-ins.
Neva Jo will be remembered as a devoted wife, a loving and caring mother and grandmother, always having time for her family. She will truly be missed by all who knew and loved her.
Funeral services will be Wednesday, July 6, 2011 at 10:00 AM in the First Baptist Church at Thayer. The family will receive friends Tuesday, July 5th from 6:00 to 8:00 PM at the Carter Funeral Home in Thayer. Burial will be in the Thayer Cemetery with services under the direction of Carter Funeral Home, Inc. in Thayer.
In lieu of flowers, memorials may be made in her memory to Fun and Friends Senior Center in Thayer or Hospice Care of Houston, Missouri.