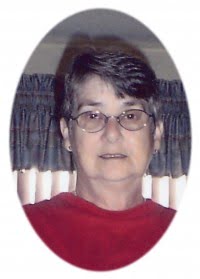 Myrtle M. Perkins was born the daughter of Samuel E. Williams and Odie I. Dillinger Williams on July 11, 1945 at Wynne, Arkansas and departed this life June 19, 2011 in Thayer, Missouri at the age of 65 years.
She was united in marriage in 1971 at Valdosta, Georgia to Roy "John" Perkins.
She is survived by her husband, Roy "John" Perkins of the home in Mammoth Spring, Arkansas; five children, Neil Perkins of Naples, Florida, Kimberly Williams of Mammoth Spring, Arkansas, Sherry Role of West Roseville, Minnesota, Roy Perkins of Naples, Florida and Edgel Sparks of Michigan; one brother, Lehman Williams of Buena Park, California; two sisters, Trudie Gregory and Nellie Wood, both of Bakersfield, California; ten grandchildren; several nieces, nephews, other relatives and many friends.
She was preceded in death by her parents, Samuel and Odie Williams and one sister, Thelma Gregory.
Myrtle was supervisor of the classified ad section for the Naples Daily News in Naples, Florida for 34 years.
She was a member of the Mammoth Spring First Baptist Church, a dedicated homemaker and a devoted wife and mother. She will truly be missed by her family, her friends and the neighborhood in which she lived.
Funeral services for Myrtle M. Perkins, age 65, of Mammoth Spring, Arkansas, will be Saturday, June 25, 2011 at 2:00 PM in the Carter Funeral Home Chapel at Thayer. The family will receive friends Friday, June 24th from 6:00 to 8:00 PM at the funeral home. Burial will be in the Camp Cemetery at Camp, Arkansas with services under the direction of Carter Funeral Home, Inc. in Thayer.