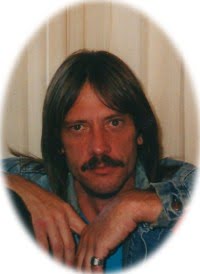 Michael Joe Wicker was born the son of Bobby Joe Wicker and Anita Jewell (Ehrhardt) Wicker on December 27, 1956, in Mammoth Spring, Arkansas, and departed this life on May 28, 2016, in Hot Springs, Arkansas, at the age of 59 years.
He was united in marriage on March 3, 1980, at Thayer, Missouri, to Misti Harkleroad.
He is survived by his father, Bobby Joe Wicker and wife Linda of Myrtle, Missouri; one son, Tommy Joe Wicker of Wichita, Kansas; one sister, Kim Davis and husband, Ron of Thayer, Missouri; one niece, Brianna Crase and husband, Adam of Thayer, Missouri; two uncles, Herbert Wicker of Jonesboro, Arkansas, and W.C. Wicker of Indiana; one aunt, Connie Jean Hackworth of Bethalto, Illinois, other relatives and many friends.
He was preceded in death by his mother, Anita Wicker.
Michael will be remembered as a talented musician. He played in numerous bands, including Back Flash and Southern Edge. He will also be remembered for his love of car racing.
He was of the Assembly of God faith and attended First Assembly of God church in Thayer for several years.
Michael will truly be missed by his family and many friends.
Funeral Services for Michael Joe Wicker, age 59, of Hardy, Arkansas will be held Wednesday, June 01, 2016, at 2:00 PM at the Carter Funeral Home Chapel in Thayer Missouri.
Visitation will be from 1:00 until service time.
IN LIEU OF FLOWERS CONTRIBUTI0NS MAY BE MADE TO THE FAMILY, AND LEFT AT THE FUNERAL HOME.
Burial will be in the Myrtle Cemetery, Myrtle, Missouri with services under the direction of Carter Funeral Home, INC in Thayer.