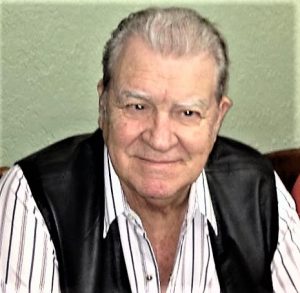 Melvill 'Leon' Chappell was born the son of Melvill Archie Chappell and Mary Essie Randolph Chappell on April 17, 1937, in Eaton, Arkansas and departed this life on February 28, 2019 at Shady Oaks Healthcare in Thayer, Missouri, at the age of 81 years.
He spent eighteen devoted years with his best friend, Lola Gatewood.
He is survived by his life love, Lola Gatewood of the home, in Brandsville, Missouri; seven children, Ronald Leon Chappell and wife, Brenda, of Lyons, Oregon, Virgil Alan Chappell, Timothy Gatewood and wife, Suzanna, of Brandsville, Missouri, Deborah Loudermilk and husband, Steve, of Arab, Alabama, Quintin Ross Gatewood and wife, Chris, of Pottersville, Missouri, Lydia Jones and husband, Robert, of Thayer, Missouri and Cliff Gatewood and wife, Sarah, of West Plains, Missouri; many grandchildren and great grandchildren; his furry companion, Princess; other relatives; and countless friends.
He was preceded in death by his parents, Melvill and Mary Chappell; and many other relatives.
Melvill was of the Baptist faith and loved to attend church whenever his health permitted. He enjoyed playing bingo and crafting unique pieces from wood for his friends and family.
He loved to visit with people as often as possible. Melvill was very sociable, outgoing and encouraging. People loved spending time with him, as he did with others. He loved to go out to eat, especially if he got to eat catfish. Most of all, he loved spending time with his family.
Melvill was a loving and caring father, grandfather and friend. He will truly be missed by all that knew him.
A Celebration of Life Service will be held on Saturday, April 20, 2019 at 2:00 PM in the home of Lola Gatewood in Brandsville, Missouri with Brother Wayne Hurst Officiating.