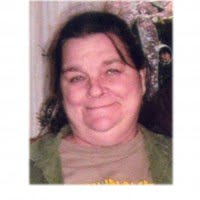 Mary Cecilia DeVaul was born March 25, 1952 in Kansas City, Missouri and departed this life on December 20, 2011 at her children's home in Thayer, Missouri, at the age of 59 years.
She is survived by her son, Lee Kester and wife, Teresa of Thayer, Missouri and their family, Dustin, Tasha and Macy Reeves of Gatewood, Missouri; Adam Combs and Amy Rodiger of Springfield, Missouri and Jesse Critten of Bandara, Texas; one brother, John DeVaul and wife, Naomi of Kansas City, Missouri; two brothers-in-law, Don Miller and George Thornton, both of Kansas City, Missouri; one sister-in-law, Judy Nesbit of Kansas City, Missouri; twelve nieces and nephews and many friends.
She was preceded in death by her parents, Robert and Clara Pauline (Morgan) DeVaul; two sisters, Judy Thornton and Yvonne Miller and one brother, Larry Nesbit.
Mary had a special love for the Kenneth Copeland Ministries and the armed forces. Throughout her life, she was always surrounded by her animals. Some of her favorites in her life were Princess, Pinocchio, Rebel, Sugar and her devoted nurse until her death, Mack.
Although she sometimes tried to hide her true feelings, her heart of gold would always shine through. Her pride in life rested in her son. She was truly devoted to him and his well being. Her antics, her smile and her laughter will be missed by many as she rests in the arms of the Lord.
Funeral services will be Thursday, December 22, 2011 at 10:00 AM in the Carter Funeral Home Chapel at Thayer, Missouri with Erman Croney officiating. The family will receive friends Wednesday, December 21st from 7:00 to 9:00 PM at the funeral home. Burial will be in the Thayer Cemetery with services under the direction of Carter Funeral Home, Inc. in Thayer.