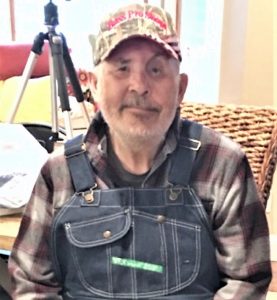 Martin L. Komm, Jr. was born in Fryatt, Arkansas, the son of Martin L. Komm, Sr. and Opal McDonald Komm on March 3, 1938, and departed this life on October 10, 2018, in Springfield, Missouri, at the age of 80 years.
Martin was married to Fern Leslie in 1959, in West Memphis, Arkansas.
He is survived by his six children, Tammy Combs and husband, Eddie, of Myrtle, Missouri, Marty L. Komm, III of Thayer, Missouri, Randall R. Komm of Fenton, Missouri, Mike Komm of Bryant, Arkansas, Missy Underwood and husband, Mark, of Thayer, Missouri, and Marvin Komm and wife, Teri, of Bolivar, Missouri; one sister, Frances Komm Wyatt of Thayer, Missouri; eleven grandchildren, Brian Combs, Jamie Perryman, Marty Komm, IV, Michelle Turner, Jessica Wolff, Jena Greer, Mikayla Barnett, Mitchell Underwood, Kristen Komm, Jason Komm and Josh Komm; ten great grandchildren, Tucker, Elena, Cash, Maggie, Legend, Legacy, Lane, Lance, Jordan, Jacey, Emery and Eli; one sister-in-law, Frankie Komm of Mammoth Spring, Arkansas; three nephews, Tony, Fred and Ken; one niece, Sandi; other relatives and a host of friends.
He was preceded in death by his parents, Martin and Opal Komm; one brother, Donald Komm; and brother-in-law, Lloyd Wyatt.
Martin was a Christian and member of the First Church of God in Thayer, Missouri. He loved his church and his church family deeply.
He was also a member of the Alton-Thayer Elks Lodge and was the Exalted Ruler for several years. He enjoyed going to the Mammoth Spring Senior Citizens Center and playing pool with whoever would go up against him.
Martin had a love for woodworking. He made beautiful clocks out of barn wood and other types of materials for his family and friends. He also would often sell them at local flea markets.
He was a conductor for Frisco Railroad, retiring after twenty years of dedicated service.
Martin enjoyed the outdoors, whether it be hunting, fishing or mowing grass. He will be remembered as a coach for Little League baseball and Mighty Mite football and was instrumental in building the fields at Thayer for his teams.
Most of all, Martin loved and adored his family. He was a devoted and loving father, brother, grandfather and friend. Martin was dearly loved by everyone who knew him and will be greatly missed.
Funeral services will be held on Saturday, October 13, 2018 at 2:00 PM at the Carter Funeral Home Chapel in Thayer, Missouri.
Family will receive friends on Friday, October 12, 2018 from 6:00 – 8:00 PM at Carter Funeral Home.
Interment will be at the Thayer Cemetery in Thayer, Missouri with arrangements under the direction of Carter Funeral Home in Thayer.
Contributions may be made in his memory to the First Church of God in Thayer, Missouri or the Mammoth Spring Senior Citizens Center.