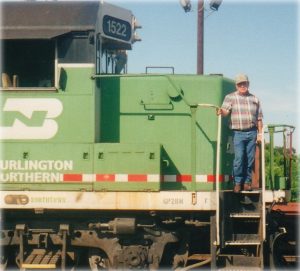 Martin Dale Beatty was born the son Ralph Beatty and Audra (Martin) Beatty on January 9, 1939 in Thayer, Missouri and departed this life on May 18, 2017, at his cabin in Mammoth Spring, Arkansas, at the age of 78 years.
He was united in marriage on October 7, 1960 in Thayer, Missouri to May Belle Janes.
He is survived by his wife, May Belle Beatty, of the home in Mammoth Spring, Arkansas; two sons, Mike Beatty and wife, Paige of Jackson, Missouri and Matt Beatty and wife, Rachel of Springfield, Missouri; three grandchildren, Marshall and Cassidy Beatty of Jackson, Missouri and Zach Beatty of Springfield, Missouri; two sisters, Iris Alford of Thayer, Missouri and Ralpha Phillips of Broken Arrow, Oklahoma; three nephews; four nieces; other relatives and a host of friends.
He was preceded in death by his parents, Ralph and Audra Beatty; one sister, Ruthene Alexander and husband, John; his father-in-law and mother-in-law, Otis and Irene Janes and one brother-in-law, Denton Alford.
As we celebrate the life of Martin, we reflect on the life of he had. His name was obtained from his mother's maiden name. He also became known by the nickname Butch, given by his friend, Bonnie at eleven years old. He is still known by this nickname today. He was born, raised and spent his entire life in Thayer. He was the youngest of four, having three older sisters. He was drafted into the army spending two years in Fort Hood, Texas, where he was deployed during the Cuban missile crisis. He started work for the Frisco railroad, where he worked for 31 years.
He enjoyed sharing his love of trains with his grandchildren. He also enjoyed being outside, working on his yard, wood working, and carpenter work. Martin also enjoyed traveling. He took pleasure in taking two weeks vacations to travel around the country and taking his grandchildren on vacation every summer. He delighted in homemade ice cream, blackberry cobbler and had a passion for black walnuts. He took great pride in his grandchildren. He devoted his time and energy into the upkeep of the Rose Hill one room school- house and cemetery.
Martin was a member of the First Baptist Church of Thayer since 1951. He was also a member of the American Legion for 42 years.
Butch was a very strong supporter of the Thayer Bobcats, if he could not be at the game, he was listening to the games on the radio.
He will be remembered as a loving and devoted husband, father, grandfather and brother. He will truly be missed by all that knew him.
Funeral services for Martin D. Beatty will be held Sunday, May 21, 2017 at 2:00 PM at the Thayer First Baptist Church with Brother Jared Russell officiating.
Burial with full military honors, will in Thayer Cemetery with services under the direction of Carter Funeral Home, Inc in Thayer