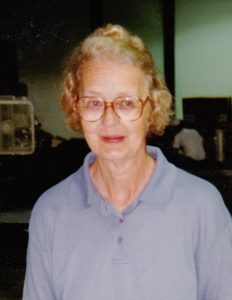 Martha Jane (Janie) Parrish was born July 24, 1934 and parted from this world May 25, 2016 at NHC, West Plains.
She was a life long resident of West Plains, Missouri. She worked at Eaton Mfg. in West Plains for twenty-five years, retiring in 1996. She then worked part time in the middle school cafeteria for many years. She enjoyed the children very much.
She is survived by her son Don Parrish and wife Kathy; her sister, Dorotha Langston; three grandchildren; eight great grandchildren, and two great great grandchildren.
She was known to many as "grandma". She was of the Baptist faith being a charter member of the Calvary General Baptist Church in West Plains, May she be in the arms of Jesus.
Visitation will be held Friday, May 27, 2016 from 6 to 7:00 p.m. at Carter Funeral Home Chapel, West Plains.
Graveside services will be held Saturday, May 28, 2016 at 11:00 a.m. at Oak Lawn Cemetery, West Plains,