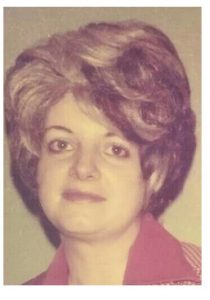 Margaret Elizabeth Carter passed away March 19th, 2016 after a seven month battle with cancer.
She was born on February 15, 1942 to the late Hobert Miller and Gertrude Judd Miller.
She is survived by her husband Carl Carter; two sons Ronn Carter and Roger Carter and wife Christine; grandchildren, Shayna and Kayla Carter, Eli and Levi Louia, and Andrew Stovall, as well as sisters, Cora Winfrey of Marshall, Missouri, Menerva McKenzie and Peggy Huddleston of West Plains, Missouri; Fern Harris of Sedalia, Missouri, and Faye Johnston of Illinois, along with two dozen nieces and nephews.
She was preceded in death by her parents; one son, Kevin Carter; one sister, Emma Roark; two brothers, Cecil Miller and Joe Miller, along with three baby brothers.
Services for Margaret Carter will be held on Thursday, March 24, 2016 at 2:00 p.m. at Carter Funeral Home Chapel, West Plains, Missouri, with Brother Bill Bales officiating.
Visitation time will be held also on Thursday, March 24, 2016 from 1:00 p.m. until time of service at 2:00 p.m.
Burial will be in Flint Springs Cemetery, Salem, Arkansas, under the direction of Carter Funeral Home, Inc., West Plains, Missouri.