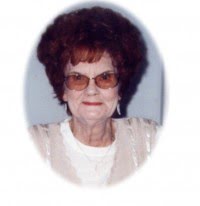 Maggie Leona King was born the daughter of Joseph Ivey and Augusta Wallace Ivey on August 3, 1927 at Many Islands, Arkansas and departed this life May 6, 2011 in Thayer, Missouri at the age of 83 years.
She was united in marriage January 8, 1949 in Kansas City, Missouri to Elmer Jay King, who preceded her in death April 5, 2005.
She is survived by five children,Verne King and wife, Carole of Chattaroy, Washington, James J. King and wife, Karen of Arnold, Missouri, Harold Eugene King and wife, Dianne of Bloomington, Illinois, Gary Lynn King of Thayer, Missouri and Barry Joe King and wife, Shelly of Bentonville, Arkansas; twelve grandchildren; Bobby King, Shelley Cook, Tamara King, Tracy Entwhistle, Angela Kozieja, Samuel King, Laura King, Michael King, Ryan King, Zach King, Dylan King and Delaney King; fifteen great grandchildren; a special niece and caregiver, Sharon Montalto of Thayer, Missouri; several nieces, nephews, other relatives and many friends.
She was preceded in death by her parents; her husband; one son, Wayne Lee King; eight brothers and sisters, Thomas Ivey, Charles Lynn Ivey, Mary Ivey Stiles, Goldie Young, Ollie Taylor, Erwin "Bub" Ivey, Lee Ivey and Helen Ivey.
Mrs. King enjoyed bingo and spending time with her brothers and sisters. She will be remembered and missed by all who knew and loved her.
The family would especially like to thank Hospice Compassus and Shady Oaks Healthcare for their care and compassion.
Graveside services will be Tuesday, May 10, 2011 at 11:00 AM in the Field Creek Cemetery at Mammoth Spring, Arkansas with Shawn Deree officiating. The family will receive friends tonight, Monday, May 9, 2011 from 6:00 to 8:00 PM at the Carter Funeral Home in Thayer. Burial will be in the Field Creek Cemetery with services under the direction of Carter Funeral Home, Inc. in Thayer.