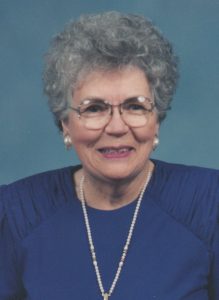 Mae Reasons, 87, West Plains, Missouri, entered into eternal glory Sunday, July 24, 2016 while residing at West Vue.
Mae was born November 10, 1928 in Viola, Arkansas, to James Olen Rosier and Jodie Lou Ozbirn Rosier. She graduated from Viola High School in 1946. She was a basketball player during school and after high school she and her sister were recruited to play for the "Red Heads," a
professional women's traveling basketball team. She was an avid fan of the St. Louis Cardinals and Duke and UNC college basketball teams.
In 1946 she married T. J. Reasons in Viola, Arkansas. They moved to Kansas City where she began working at Montgomery Ward. After moving to West Plains, she was one of the first school bus drivers for West Plains Schools. She then worked eight years as Howell Valley School's first secretary and served as the girls volleyball coach. She then worked seventeen years at Fair View School as the office secretary. Rather than retiring, she then worked as a courier for nine years for the now known Landmark Bank. She also volunteered at OMC for a few years. While working at the schools and bank, in 1973, she opened and operated "Fireworks City," across from the Dairy Queen, which became known as "Crazy Mae's Fireworks." Her family continues to operate the fireworks business. Mae was a hard worker, having grown up on a farm in tough times, learning the skill of honest, hard work.
Ms. Reasons served as a volunteer phone operator at First Baptist Church, where her smile and wit were so well received. She was a member since1964. She also helped with the church's Food Bank. She was a true "bring a smile to your face" member. Her devotion to Jesus was evident in her love of others.
Mae has always been known for her humor and wit in any setting. She could take an ordinary conversation and turn it into rolling laughter. Her spunk never missed a punch to give someone advice. "Kiss my grits" was one of her most known verbal comebacks. Anyone who knows her can testify that it was never a guess what she meant when she said something. Knowing Mae was the brightest moment a person could have. Her love and devotion for her family was fierce and they will miss her terribly.
She is survived by daughter, Sandy Putnam, West Plains; son, Tim Reasons, Orange, Texas. Four grandchildren; Lisa Brassfield and husband Jim; Brian Hale and wife Angela; T. J. Temple and wife Alanna; Robby Temple. Great grandchildren: Preslee Sukow, Jacob (Carrie) Brassfield, Jamie (Zac) Hollingshad, Ashley (Jesse) Martinosky, Evan Hale, L. J. Temple, Anna Ruth Temple. Great great grandchildren, Jack, Scarlet, Sapphire, Zeke, Ezra. One sister Oneta Oliver and husband Frank, several nieces, nephews, cousins, special family members Dr. Greg and Cindy Temple; John, Krystle, Jaiden and Jackson Hale, and many many friends.
Her parents, one son, Jim Reasons; son-in-law, Jeff Putnam; one brother, David B Rosier and three sisters, Pauline Wood, Mary Lou Brison and Anna Mae Hampton, precede her in death.
Visitation will be held at the Carter Funeral Home Chapel, West Plains from 6 to 8 pm on Tuesday, July 26th.
Funeral services will be at the First Baptist Church, 202 Walnut, West Plains, on Wednesday July 27th at 10:00 a.m. with Rev David Ball officiating and with burial in the Howell Valley Cemetery.
In lieu of flowers, please give to the First Baptist Church Upward Basketball or Awana, or to the Gideon Bibles.