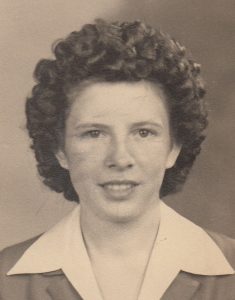 Funeral services for Lucy Marie Spear, 91, West Plains, will be held at 2:00 p.m., Monday, September 12, 2016, at the Carter Funeral Home Chapel, West Plains.
She was born the daughter of the late Jesse McLain and Dora Lee VanAmburg McLain, on July 22, 1925 in Oak Ridge, Missouri and died September 6, 2016 in West Plains.
She was united in marriage July 7, 1946 in Pocahontas, Arkansas to Harrison L. Spear, who preceded her in death.
She is survived by three children, James H. Spear and wife Marsha, North Pole, Alaska, Ronda Dunmire and husband Wayne, North Apollo, Pennsylvania, and Linda Hill and husband Daniel, West Plains, Missouri; thirteen grandchildren, and five great grandchildren.
She was preceded in death by her parents; her husband, and four siblings.
Visitation will be held Sunday, September 11, 2016 from 6:00 to 7:00 p.m at Carter Funeral Home in West Plains.
Burial will be in Memorial Gardens Cemetery, Poplar Bluff, Missouri, under the direction of Carter Funeral Home, Inc., West Plains.