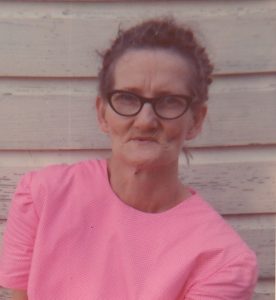 Lorene Martin was born the daughter of Noel Martin and Catherine (Clark) Martin on November 29 1926, in Calico Rock, Arkansas and died June 3, 2017, in West Plains, Missouri, at the age of 90 years.
She is survived by five grandchildren, Billy Roy Martin, Jr and wife, Tywana of Mammoth Spring, Arkansas, Sally Ann Arredondo and husband, Adolfo of Alvin, Texas, Deanna Stephens and husband, Aubrey of Mammoth Spring, Arkansas, Amy Gail Stephens and husband, Gene of Mammoth Spring, Arkansas and Sarah Rae Reed and husband, Rodney of Mammoth Spring, Arkansas; four brothers, Earl Edward Martin of Illinois, Vernon Martin, Leland Martin and Leon Martin all of Mammoth Spring, Arkansas; one sister, Velma Rogers of Mammoth Spring, Arkansas; several great grandchildren; several great great grandchildren; other relatives and many friends.
She was preceded in death by her parents, Noel and Catherine Martin; her son, Billy Roy Martin, Sr; her daughter-in-law, Linda Martin; one sister, Ruby Parlmey; two great grandchildren, Zaiden Blaine Reed and Joshua Ryan Mullins.
Lorene was a dedicated homemaker. She enjoyed her family and was a caregiver for many. She was an excellent cook and was known for making delicious blackberry cobblers
She will be remembered as a loving mother, grandmother and sister. She will truly be missed by her family and many friends.
Funeral services for Lorene Martin will be held Wednesday, June 7, 2017 at 2:00 PM at the Carter Funeral Home Chapel in Thayer with Brother Wayne Hurst officiating.
The family will receive friends on Tuesday evening from 6-8 PM at the funeral home.
Burial will be in Field Creek Cemetery at Mammoth Spring, Arkansas with services under the direction of Carter Funeral Home, Inc in Thayer.