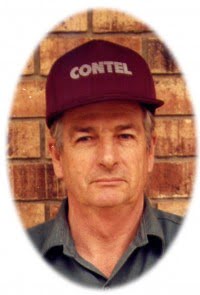 Lester Levi Slaughter was born the son of Andrew Jackson Slaughter and Callie Ruth Burch Slaughter on December 28, 1929 at Hamburg, Arkansas and departed this life April 25, 2011 at his home in Thayer, Missouri at the age of 81 years.
He was united in marriage in 1952 at Seymour, Indiana to Lorlie McGlynn.
He is survived by his wife of 59 years, Lorlie Slaughter of the home in Thayer, Missouri; one son, Michael Slaughter and wife, Judy of Lebanon, Missouri; one daughter, Vicki Biggs and husband, Kelly of Springfield, Virginia; two grandsons, Brian and Chad Slaughter; three step-grandchildren, David Jones, Erin England and Alisha McBride; one great granddaughter, Kayla Slaughter; seven step-great grandchildren; one brother, Kirby Slaughter of Hamburg, Arkansas; one sister, Qudia Sawyer of Crossett, Arkansas; nieces; nephews; other relatives and many friends.
He was preceded in death by his parents; four brothers, Marshall Godwin, Clinton, Johnny, and Leron Slaughter and two sisters, Malvie Curith and Frances Collier.
Mr. Slaughter was a Veteran, proudly serving his country in the United States Air Force.
He was employed by Contel Telephone Company for 38 years as an installer and repairman, receiving recognition for his many years of valuable service. Les enjoyed his retirement, spending many hours fishing in Spring River.
He was of the Baptist faith and will be remembered as a devoted husband, father, grandfather and brother. He will truly be missed by all.
Funeral services will be Thursday, April 28, 2011 at 11:00 AM in the Carter Funeral Home Chapel at Thayer with Brother Gerald Bounds officiating. Visitation will be Wednesday from 6:00 to 7:30 at the funeral home. Burial will be in the Thayer Cemetery with services under the direction of Carter Funeral Home, Inc. of Thayer.