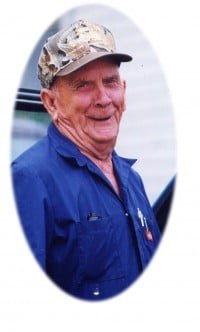 Leon Kenneth Keylon was born the son of Homer W. Keylon and Mammie H. Grills Keylon on March 25, 1922 at Ottawa, Oklahoma and departed this life May 27, 2011 in Salem, Arkansas at the age of 89 years.
He was united in marriage February 24, 1945 in Union, Arkansas to Vondera Hartgraves.
He is survived by his wife, Vondera Keylon of the home in Mammoth Spring, Arkansas; one daughter, Donna Keyes and husband, David of Paducah, Kentucky; one son, Ronald Keylon of Mammoth Spring, Arkansas; one daughter-in-law, Sherrie Keylon of Mammoth Spring, Arkansas; three grandchildren, Shelly King and husband, Barry of Bentonville, Arkansas, Tammy Rich and husband, Steve of Paducah, Kentucky and Patrick Keyes and wife, Casey of Grand Chain, Illinois; five great grandchildren, Zach, Dylan, Delaney, Steven and Seth; one great great granddaughter, Olivia; several nieces, nephews, other relatives and many friends.
He was preceded in death by his parents; one grandson, Kelly Keylon and one sister, Imogene Stuart.
Mr. Keylon was a well-known mechanic in this area and along with his wife, owned and operated Leon's Garage in Mammoth Spring for many years.
He was a member of the First Baptist Church in Mammoth Spring, Arkansas and a member of Hayes Masonic Lodge No. 289 in Union, Arkansas for over fifty years.
He will be remembered as a devoted husband, father, grandfather, a true friend and neighbor. He will truly be missed by his family, his many friends and the community in which he lived.
Funeral services were Sunday, May 29, 2011 at 2:00 PM in the Carter Funeral Home Chapel at Thayer, Missouri with Brother Charles Morgan officiating. Burial was in the Riverside Cemetery at Mammoth Spring, Arkansas with services under the direction of Carter Funeral Home, Inc. in Thayer.